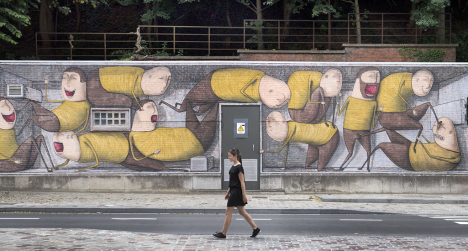 Visit Leuven with the street art brochure
On the map you will find an overview of works of art. An organised tour walk will take you past 11 works of art in the city centre.
Tip! The walk comes with a card of quiz questions about the artworks, intended for children. If you bring the answers to Visit Leuven, you will receive a small reward.
Download the pdf here:
Follow the planned routes using Google Maps and head to the area behind the station, in Kessel-Lo. A unique way to discover this up-and-coming neighbourhood.
Route 1: short route, 45 minutes
Route 2: long route, 1.5 hours.
Tip: also fun by bike!
Practical info:
Duration:

The church walks take +/- 1 to 1.5 hours
Per church visit + 15 minutes
Visit to the Botanical Garden + 30 minutes
The walks in Kessel-Lo take 45 minutes or 1.5 hours.

Opening times of churches and the Botanical Garden can be found on our website
You can discover more street art in Leuven via the free Street Art Cities app.