There are many green oases in and around the city. The Botanical Garden is a must-visit. As soon as you walk or bike out of the city centre, you'll find yourself in the middle of field and forest, on your way towards a little bit of zen in the green setting of Park Abbey.
Kruidtuin
Botanical garden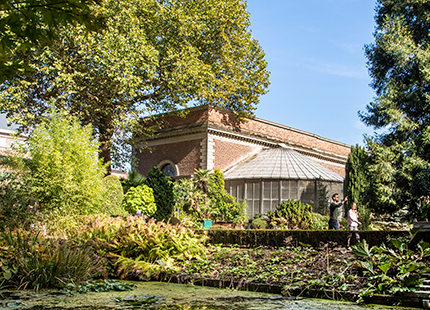 Leuven's botanical garden is the oldest one in Belgium. The university of Leuven created this garden for its students of medicine in 1738.
Botany enthusiasts can enjoy the diverse plant collections. The 450 m² greenhouse complex boasts countless herbaceous, medicinal, aquatic and potted plants as well as a variety of tropical and subtropical species. Exhibitions take place regularly in the orangery, the gatehouse and in the open air.
Address: Kapucijnenvoer 30, 3000 Leuven
​01.05 - 30.09: 8:00-20:00 | Sundays & holidays: 9:00-20:00
01.10 - 30.04: 8:00-17:00 | Sundays & holidays: 9:00-17.00
Free entrance
Attention: no dogs allowed
Sint-Donatuspark
Municipal park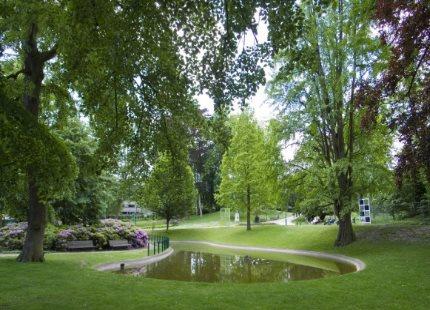 Leuven's 'municipal park' was designed in the style of an English landscape garden. Here you can still find some remains of the old town wall and a tower built in sandstone and ironstone. The park is ideal for strolling, picnicking or relaxing. Kids can enjoy themselves in the playground.
Tip: look for the 'art cabinets' (painted electrical cabinets).
Address: entrance via Tiensestraat, Vlamingenstraat & Ch. Deberiotstraat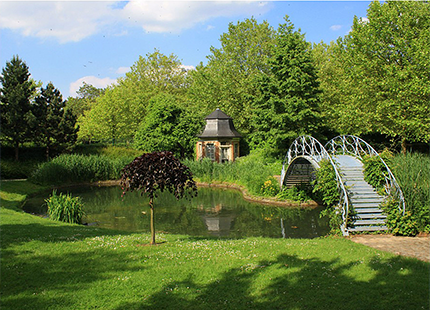 This romantic little park is one of Leuven's hidden gems.
Particular eye-catchers are the refined bridge and the gazebo.
Ideal for a picnic or for relaxing.
Address: Schapenstraat, 3000 Leuven 
Dijleterrassen 
Terraces at the Dijle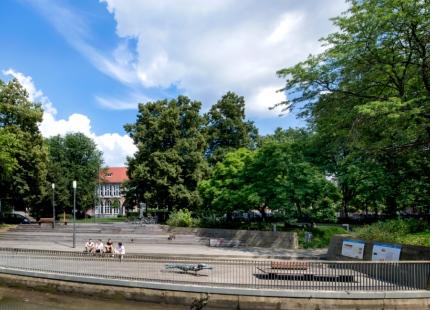 Nice terraces on the banks of the river Dijle.
This is a wonderful spot for a picnic or an enchanting night out.
Address: at Dirk Boutslaan & at Jaartallenpad
Permanently accessible
Park Abbey, Keizersberg Abbey, Saint Gertrude's Abbey, Vlierbeek Abbey
Park Abbey is an exceptionally well-preserved heritage site dating from the 12th century, located on the edge of Leuven and surrounded by greenery. The abbey site and the surrounding nature reserve are free to visit.
The garden of Keizersberg Abbey is a public park, and provides stunning views of the city.
Saint Gertrude's Abbey is a wonderful green gem in the centre of the city.
Just outside the centre, in Kessel-Lo you will find Vlierbeek Abbey. Several cycling and walking routes pass by here.
Heverleebos & Meerdaalwoud 
Forest & woods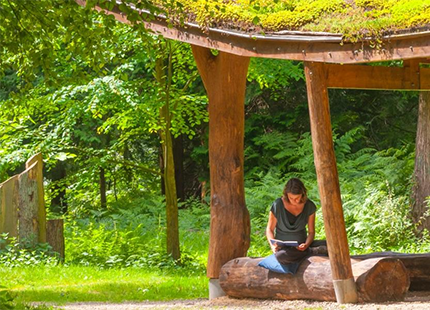 Heverleebos is an urban woodland where recreation is at the centre. There are signposted walking and cycling routes.
Nature takes precedence in Meerdaalwoud. Access to some parts of the woodland is restricted so that nature can flourish in all its diversity.
Address: Naamsesteenweg z/n, 3001 Leuven
Provinciedomein Kessel-Lo 
Provincial Domaine Kessel-Lo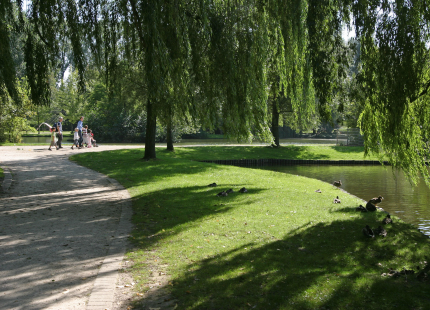 A family park aimed at recreation, sports and education. 
Recreation: with playgrounds, pedalos, rowing boats, golf & paddling pool
Sport: with ball sport fields, skateboard ramp, roller skating rink, & jogging routes
Education; with a traffic park, bee house & water ecocentre
More information: Provinciedomein Kessel-Lo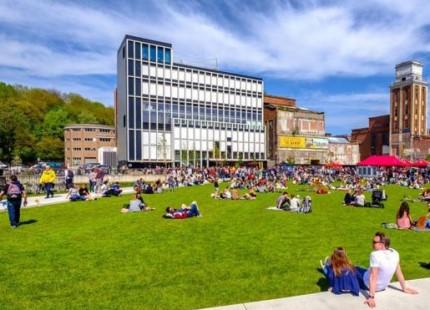 Sluispark is a brand-new park in the trendy Vaartkom neighbourhood. Water plays a central role here, thanks to the opening up of the Dyle river, the large steps which double as seating all the way to the water, and a unique water play area.
You will also find the Green Leaf artwork here. Leuven won this prestigious European award because the city serves as a role model in terms of sustainable development. Discover the 9 sustainable hotspots in the blog written by Leuven local, Hélène.
Address: situated between Sluisstraat & Burchtstraat, 3000 Leuven
Vijvers van Bellefroid
Ponds of Bellefroid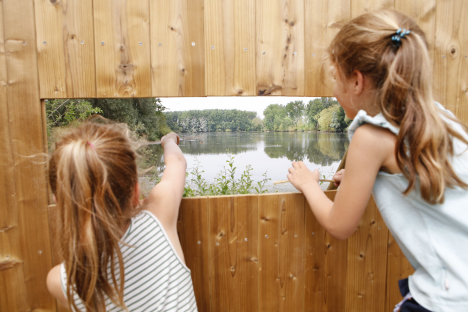 Just a 10-minute walk from the Vaartkom you will find a very special green area slightly hidden between the Sportschuur and the Vaart in Wilsele-Dorp. The shallow ponds were created in 1940 by the Bellefroid family for the purpose of breeding carp. In the 1980s, those breeding activities came to an end and nature reclaimed the 21 hectares. Observe the many waterfowl  from behind one of the two birdwatching towers, sit down by the water for a picnic or just follow the walking path and enjoy the countryside for a little while.
Address: Brandweg 8, 3012 Wilsele
01.04-30.09: 7:00-21:30
01.10-31.03: 7:00-19:00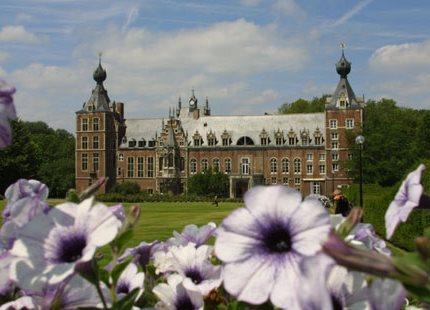 This green domain on the outskirts of Leuven is owned by KU Leuven. It is the University's Science and Technology Campus. It is also home to Arenberg Castle
Address: Kardinaal Mercierlaan 94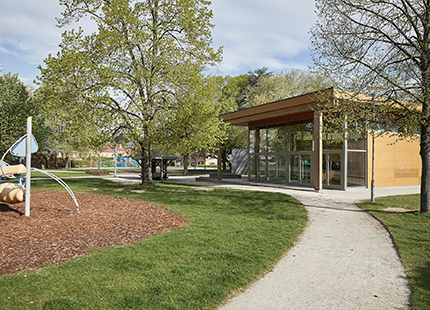 Large park in the city centre.
This green oasis includes a children's playground and a basketball court.
Address: Raoul Claesstraat 
Park with a playground and trail within walking distance of Leuven centre.
Address: Heuvelhofpark | Diestsesteenweg 381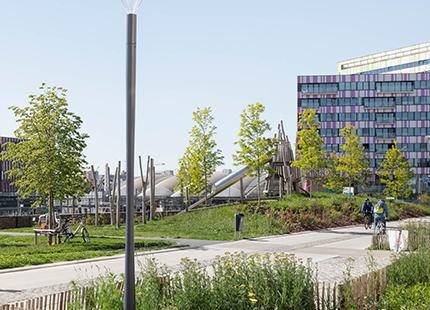 Between the railway and Martelarenlaan in Kessel-Lo you will find an elongated green park with grass areas, trees and plants, playgrounds and two neighbourhood squares.
Address: Martelarenlaan
Other parks in the city center
Tuin de Walque | Arnould Nobelstraat 11
Sint Maartensdal 
Van Waeyenberghpark | Van Wayenberghlaan
Alexianenpark | Lemmensberg 3
Grasmushof
Rambergpark, Naamsestraat 70
Parks in de municipality of Kessel-Lo
Koning Albertplein 
Michottepark | Tiensesteenweg/Platte Lostraat
Blauwputplein | Diestsesteenweg 102-104
Park Belle-Vue | Martelarenlaan
Kesselberg | Kriekenbergweg/Koningsstraat
Parks in the municipality of Heverlee
Sint Lambertusplein | Waversebaan 66
Philipssite 
Jezuïetenpark | Sint-Janbergsesteenweg
Parks in the municipality of Wilsele
Hagelandpark | Hagelandstraat, Wilsele Dorp
Sint Agathaplein | Wilsele-Putkapel
Parks in the municipality of Wijgmaal
Ymeriaplein
Rietensplein
Dijlemeander | entrance on the Lijnloperspad or the Remylaan opposite nr 26
Wijgmaalbroek
There are many green oases in and around the city. The botanical garden is a must-visit. The Heverleebos is the place to be for longer walks. 
Opening hours parks in Leuven (unless mentioned otherwise): 
01.04 - 30.09: 7:00-21:30
01.10 - 31.03: 7:00-19:00
All parks are accessible free of charge.