Eating with a view of the water
Vaartkom, Leuven's trendiest neighbourhood, with its view of the beautiful marina, has something for everyone. Head to culinary Gastrobar Hop, vegetarian Noordoever or cosy coffee bar "Mad Mum Coffee". What do all these places have in common? A view of the water!
Children and water
Of course you can also play in the water itself, deliciously refreshing on a hot day. Take your pick from the large fountain near the University Library or the water playground in Sluispark, near Vaartkom.
The provincial domain just outside Leuven, which the locals sometimes call "vijverpark" or park of the ponds, is also an excellent option. Not only are there the ponds, on which you can you go rowing, the domain also has an open-air swimming pool and a new playground with water play.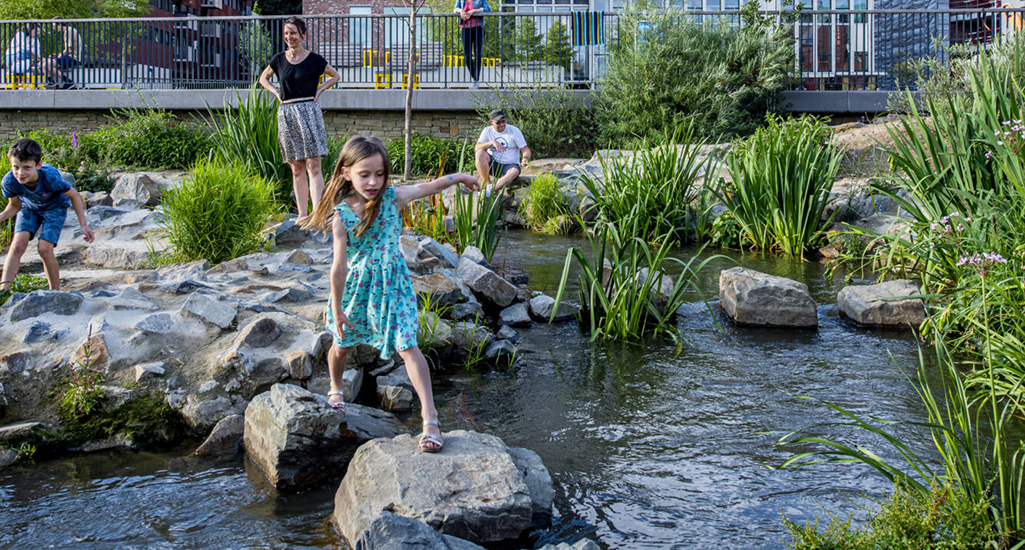 Action on and along the water
You can also make your way down the Dijle, Leuven's main river, in a canoe. Start in Korbeek-Dijle and finish at Arenberg Castle Park.
Not in the mood to dip a toe in the water? Hop on a bicycle instead - the trail along De Vaart is lovely. Easy too, because it's flat and you always ride straight ahead. Don't forget to pop in to Coupe Matadi where you can sample the tastiest ice creams (which are organic and contain less sugar) on the deck of a moored river boat.
The calming effect of water
Fancy some peace and quiet? Head to the water. The city has built the Dijleterrassen especially for this purpose. These are benches along the Dijle River where you can learn more about the Leuven legend of Fiere Margriet.
Or visit one of the parks where water plays a starring role: the Bellefroid ponds in Wilsele (a 10-minute bicycle ride from the city centre) or the ponds in Park Abbey (a 30-minute walk from the city centre).
A room with a view of the water? Why not! The Begijnhof Hotel and Martin's Klooster are near the Dijle River.