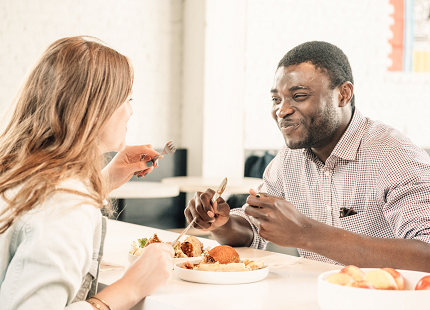 Shopping on Sunday? Absolutely!
Want a great way to spend your Sunday afternoon? Every first Sunday of the month is shopping Sunday in Leuven! The shops and restaurants are open for business, so you'll have plenty of time to take a stroll through the stopping streets.
Before you start shopping, make sure you stop for breakfast, brunch or lunch. Treat yourself to breakfast, lunch or scrumptious homemade desserts at Bite in the Tiensestraat or a veggie/vegan brunch buffet at Noordoever in De Vaartkom. Koffie en Staal, in the Dirk Boutslaan, is the place to be for great coffee and sweet treats.
It's time to hit the shops. The Harvest Club, also located in the Dirk Boutslaan, is a trendy fair-fashion concept store with something for everyone. The shop has a cosy, green interior with plants of all shapes and sizes, from hanging plants to mini cactuses.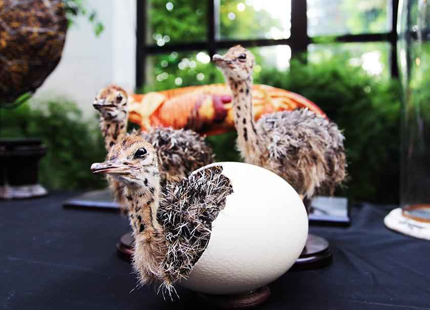 't Rood Huys in the Parijsstraat showcases the work of ceramist Jan Vander Elst. Have Jan Vander Elst and Jeroen Lemaitre piqued your interest? Then sign up for the Makers Route, a free guided walk that will take you to local craft and workshops where you can discover works by more Leuven-based makers.
A visit to Animaux Speciaux in the Mechelsestraat is like entering a new world. This extraordinary shop is packed with curiosities by taxidermist Jeroen Lemaitre. Don't forget to admire the stunning blue butterflies.
Want to forget about your daily routine and experience an exciting adventure? Then Escape Room Leuven is definitely something for you. Find the Missing Geisha, escape the Surgery Room, rob the New York Bank Heist or break out of Prison Orcus. One hour, one team, and a bucket load of fun.
Fancy discovering something new? At Brown Betty at the Bondgenotenlaan you can enjoy chocolate, tea, granola... as wel as every kind of practical accessory imaginable in the most beautiful designs.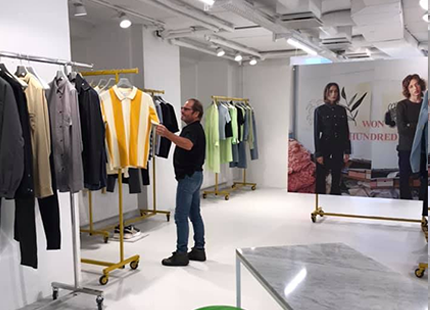 Shopping for men ? Of course!
At Portobello in the Bondgenotenlaan you'll find perfectly fitting items that will elevate your look and boost your confidence. Portobello's team will surprise you with an exciting mix of brands, including Sand, Ted Baker Strellson, Brax, Benvenuto, Strelli, PME, Drykorn, Vanguard, Cast Iron and Marc-o-Polo.
Helt in the Mechelsestraat offers a selection of timeless, Scandinavian men's fashion brands, supplemented by a number of distinctive Belgian labels. They have something for everyone, from unisex socks to vegan rucksacks and handmade boxer shorts. Helt's family of brands includes Arte Antwerp, Samsøe & Samsøe, Won Hundred, Libertine-Libertine, Edmmond, and Six Edges.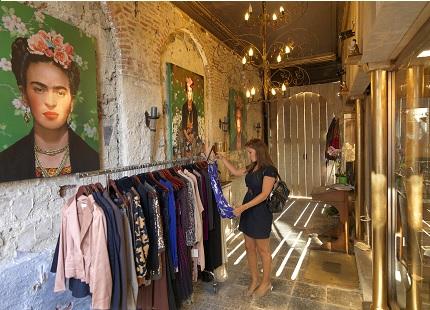 Do you want to take up a new hobby? De Franse Herder in the Van Benedenstraat is a treasure trove full of wonderful delights for knitters.
Feel it's time to end your Sunday shopping tour? The icing on the cake is a visit to aperitif and wine bar Octobar at the Alfons Smetsplein. It's the ultimate place to enjoy a glass of good wine, champagne or a beer from the tap. Be sure to enjoy a plate of oysters, shellfish and, of course, octopus while you're there. Great to nibble on over some drinks. Or sample several appetizers and linger at the bar all night.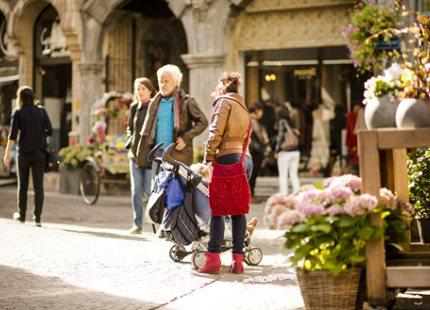 We love Coffee in the Diestsestraat is a cosy spot serving coffee, vegan cupcakes and Czech cakes.
Still haven't found what you're looking for? Visit LEF at the Vismarkt, a high-end shop that's been selling men's clothes for over 26 years. The shop stocks top British, Belgian, French, German and Dutch brands that will appeal to young and old alike. If you're looking for a sporty look with a bit of an edge, then you'll find it here. LEF carries a variety of fashion brands. For timeless style and brands like Paul Smith, Etro, Emporio Armani and Zegna, go to Jonas in the Mechelsestraat. Why not complete your men's outfit with the perfect pair of shoes? Mertens Schoenen, an authorised shop of Van Bommel, sells stylish, high-quality shoes.