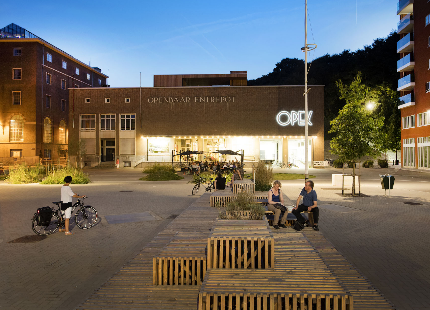 Once a dilapidated industrial and brewing site near the Canal, this area is being transformed into one of the city's trendiest spots. Drop by and discover the perfect synthesis of old and new, with plenty of green and new restaurants and shops that are popping up around the harbour.
The old Stella Artois brewery has become De Hoorn, a place for like-minded creative spirits to come together, and which also naturally includes a café and restaurant. The terrace spills out into a fabulous new neighbourhood park, the Sluispark.
The former Customs building is now home to OPEK, a place for artistic organisations and a great cultural café.
The Balk van Beel residential complex by star architect Stéphane Beel is a shining example of sustainability.
And don't forget to go in search of the artworks by Pieter Janssens, whose studio is here in Leuven. Tip: be sure to look up!
Free shuttle service
From Parking Vaartkom to the city centre and back.
Fridays: 9:00-18:00
Saturdays: 10:00-19:00
Sunday shopping: 14:00-19:00
4 stops in the centre (2 on Saturdays)