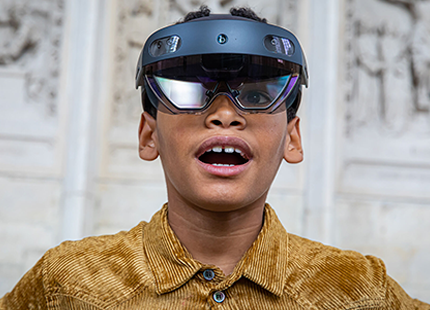 In 2020, the completely restored Saint Peter's Church launched a new visitors experience. Discover a unique collection of art treasures still in their original, historic setting. These works of art are brought to life as part of an innovative experience via a tablet or the award winning hololens.
Award winning hololens
The device looks somewhat like a light, streamlined helmet-with-glasses. The helmet part comes with a computer, speakers and all sorts of built-in cameras, projection lenses and sensors. It is possible to project 3D images onto the glasses. You see these images in addition to the normal image of the setting you are in.
Family experience
No interest in digital innovation? There is also a visitor guide available, as well as two self-guided family tours: one for children from age 4 and one for children from age 8.
'The Last Supper' by Dieric Bouts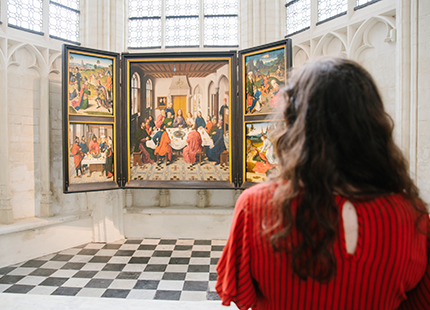 Dieric Bouts (ca. 1410-1475), who might be mentioned in the same breath as Jan Van Eyck or Rogier Van der Weyden, was one of the Flemish Primitives and city painter of Leuven. His masterpiece 'The Last Supper' is the outstanding artwork of the church. It is still located in the chapel for which it was painted almost 600 years ago. Mixed reality brings Bouts' triptych truly to life.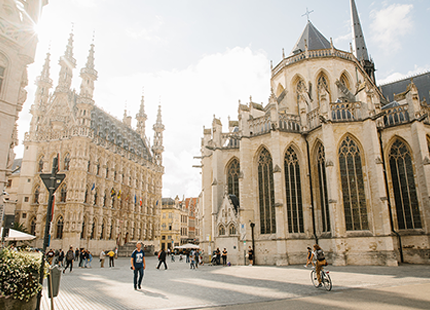 Other highlights of the church are 'The Martyrdom of Saint Erasmus', also painted by Dieric Bouts, and the 'Edelheere Triptych'. But also the 'Triumphal Cross' by Jan Borman, the tomb of Henry I and the chapel of 'Proud Margaret' each have a place in the complete experience. Discover the fascinating stories of this magnificent church, its art treasures and the vibrant Leuven of the past and present.
The 15th-century Saint Peter's Church is a classic example of Late Gothic architecture. Outside, you can clearly see the towers have never been completed due to an unstable soil. The church with belfry was recognized as a UNESCO World Heritage in 1999.
Opening hours & tickets
Visit Saint Peter's Church
10:00-16:30
Sundays: 11:00-16:30
01.10-31.03: closed on Wednesdays
Free entrance
Digital experiences | By reservation only, pick up at the reception desk:
Brochures
Visitor's guide: 5 euro
Family tour: 5 euro
Tips
The unique HoloLens is a must! These mixed-reality glasses really bring the works of art in the church to life.
Food & drinks in the neighbourhood: surrounded by streets and squares with restaurants and cafés
How to get there?
Address: Grote Markt, 3000 Leuven • location on map

By bus
Bus stop Rector De Somerplein
All busses in direction of the city centre
Route planner

On foot or by bike
Distance from the train station: 1,1 km
Distance from Visit Leuven, Naamsestraat 3: 75 m


By car
Parkings in the neighbourhood: Ladeuzeplein & Heilig Hart
Accessibility