Yoga sound bath in Park Abbey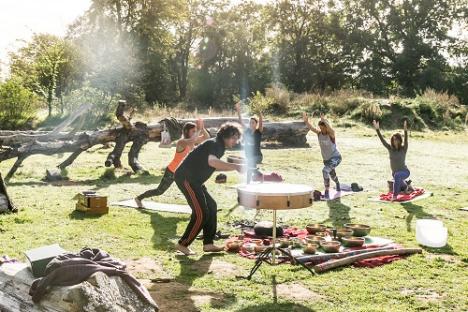 On 29 September, the abbey stood tall and proud, serving as the backdrop for an outdoor yoga sound bath. Yoga teacher Erica Lutes guided students through a series of peaceful poses, enhanced by soothing sounds, and aided by deep reflection.
On an incredibly sunny Saturday morning, 15 people from all backgrounds attended an outdoor yoga class at Park Abbey. Nature surrounded the group for more than 75 minutes, during which the participants enjoyed everything that Park Abbey has to offer.
Erica Lutes, a dedicated and accomplished American yoga instructor, started off with a centring meditation. After that, she moved into the yang and yin poses. "We wanted to bring yoga to this beautiful landscape," Erica explained. "Building upon the session by Mula Yoga earlier this summer, we decided to teach another yoga class, but to add a sound healing to it."
So, Erica teamed up with Rasmus Crab, who provided soothing and calming sounds on a variety of instruments. "Rasmus' unique combination of instruments allowed each of us to connect our minds to our bodies and helped us find the path to peace and contentment."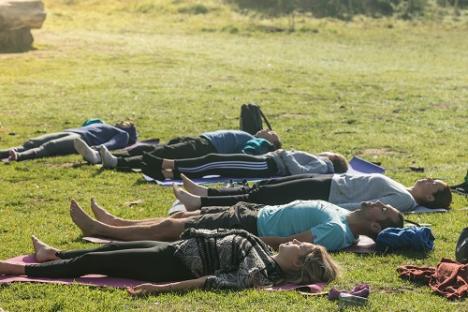 Bare feet in the grass
Tine Aers, one of the participants, was very enthusiastic afterwards. "Outdoor yoga is really different than in a studio. The fresh air, the scents, and the ambient sounds offer an extra dimension to this experience. And it's all done at the beautiful Park Abbey site... I try to stay informed about all the things going on over here."
Tine lives near the abbey site. She took her husband and her 12-year-old daughter with her. "They were also very enthusiastic, although my husband is not really yoga-like," she laughed. "My daughter got a little impatient towards the end, but really enjoyed having her bare feet in the grass."
Which instrument helped Tine relax the most? "We closed our eyes for a long time, so sometimes, I didn't even realise Rasmus had changed anything," Tine confessed. "The most important thing is that you completely relax and that was the case. If there's another outdoor yoga session in the abbey, I will definitely come back," Tine concluded.
If you want to be informed about future yoga sessions, keep an eye on our Facebook page (in Dutch). And for the record: you and your yoga mat are always welcome at the abbey site!