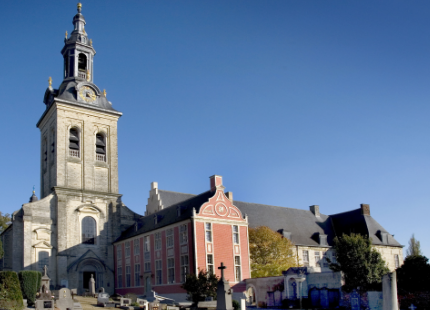 Currently closed as a measure of fighting the coronavirus.
1. Guided tour: Life in the abbey
How did the Norbertine fathers live and work 900 years ago? After intense restoration, you can once again visit the abbey's magnificent refectory and imposing library and enter the world of the Norbertines.
Admire the abbey's masterpieces and discover the story of the unique 17th-century stucco ceiling, created by Jan-Christian Hansche. Marvel at the cloister with its 20 exceptional, monumental stained-glass windows, also dating back to the 17th century, created by Leuven glass artist Jan de Caumont and newly reinstalled. Today these are recognised and protected as Flemish masterpieces.
Duration: 2 hours
Languages: Dutch, French, English and German
Price: €16 per person (including tour and entry)
For 10-20 people
 2. Guided tour: The abbey zoomed out
With a guide, you'll walk round the abbey site and the lakes. The guide will tell you all about the abbey as an economic and ecological centre, then and now. You'll visit the restored outbuildings around the cloister, and learn about the sustainable repurposing of the mills, gates, tithe barn and brewery.
3. Guide tour of the exhibition Divine Lightning: 900 Years of the Norbertines
With a guide, you'll visit the exhibition Divine Lightning: 900 Years of the Norbertines. From the roots of the past to today, Divine Lightning puts the religious order in the spotlight. Discover how abbey life was organised and what duties the Norbertines carried out. Their role in religious, economic and cultural life is also explored in depth.
Sociocultural associations and businesses
Would you like to visit the abbey with your sociocultural association or business? We're happy to design a customised programme with you.