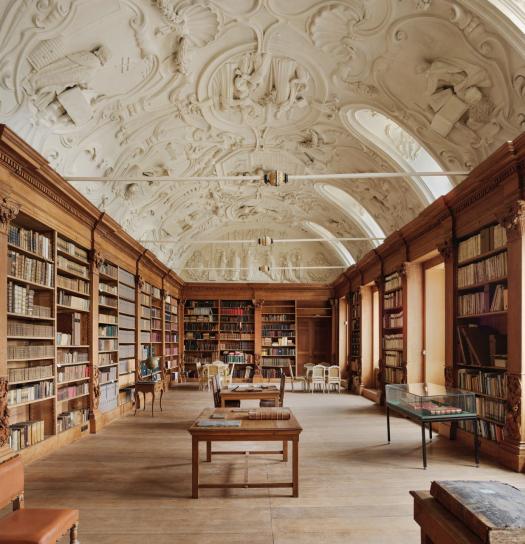 Jan Christiaan Hansche
Abbot Libert de Pape decided to create a new space for his abbey's precious books in 1672. He opted for an ambitious construction project with, just like in the refectory below, a stucco ceiling, executed by the same artisan: Jan-Christiaan Hansche. But this time it would be even more impressive, because it was mounted on a specially created vaulted dome.
Order's founder, Norbert
Centrally and at both ends of the dome are scenes from the life of the order's founder, Norbert. The famous lightning strike and his fall from his horse are there too. On the left side, Hansche portrays the Four Evangelists with their respective attributes. On the right side, he chose the Four Church Fathers. With his assistants, Hendrik Daelmans and Willem Steltjens, the master spent 107 days on the work.
Historical book collection
The historical book collection is temporarily housed in Kadoc, the Interfaculty Documentation and Research Centre on Religion, Culture and Society at KU Leuven, but in 2025 it will return to the abbey. The library now holds the abbey's old archives, which began in 1129 and represent the memory of the site, of nine centuries of human activity and Norbertine presence.