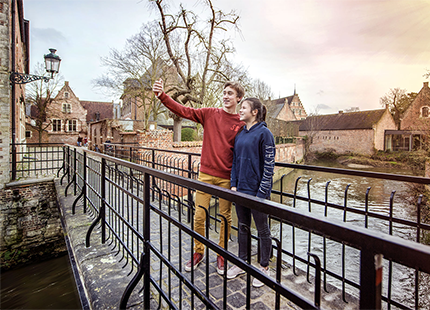 The beguinage in the past
The beguinage dates from the 13th century. The community had about 360 beguines in its heyday in the 17th century.
The beguinage today
It consists of a series of alleys, courtyards, gardens and parks with dozens of houses and convents built from traditional sandstone. It is currently inhabited by students, foreign visiting professors and staff of the oldest Catholic university in Europe.
The Great Beguinage was listed as UNESCO world heritage in 1998. You can visit it free of charge.
Opening hours
Permanently open, with respect for the private nature of this residential estate that belongs to KU Leuven
Free entrance
Tips
Take a look at the Small Beguinage as well. It's not so well known, and is something of a hidden gem.
Food & drinks in the neighbourhood: Faculty Club
How to get there?
Address: Schapenstraat, 3000 Leuven • location on map

By bus
Bus stop Heilig Hart
Bus numbers 1, 2, 179, 306, 337, 520, 524, 525, 537, 555, 558, 601
Route planner

On foot or by bike
Distance from the train station: 2 km
Distance from Visit Leuven, Naamsestraat 3: 950 m

By car
Parkings in the neighbourhood: Bodart (10h, blue disk) & Heilig Hart
Accessibility
Not easily accessible for wheelchairs and push chairs.