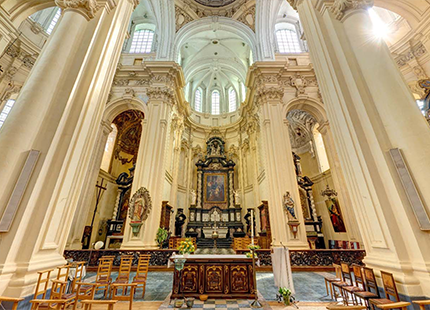 The church was built between 1650 and 1666 in white sandstone and ironstone. The façade looks like an altar with its Ionic columns, pilasters and friezes.
The church was almost completely destroyed in 1944. Only the façade miraculously survived. The reconstruction of the church was finished in 1950.
As from May 2021, you will find in the church the historically based reconstruction of the baroque organ that Heinrich Andreas Contius built in 1769 for the Holy Trinity Cathedral in Liepaja (Latvia). As an organ builder, H.A. Contius was held in very high esteem by Johann Sebastian Bach, and the organ in Liepaja is the only complete organ by Contius to survive to the present day.
It is therefore no exaggeration to say that the reconstruction of this organ creates a unique context in which the music of J.S. Bach, sons and contemporaries, can be performed in the best possible conditions.
Practical info
01.04 - 30.09
Tuesday until Sunday: 13.30-16.30
Free entrance
Address: Naamsestraat 57a, 3000 Leuven