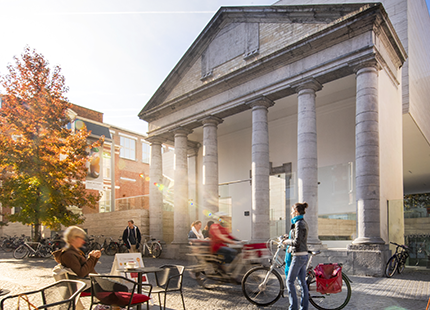 M Leuven worked hard to be able to receive visitors again. Among other things, they are presenting a
brand-new exhibition: Rodin, Meunier & Minne
. You will have so much space that it will seem as though the art is there for you alone.
Here
, you can read how they are ensuring you a safe and pleasant visit.
The museum displays old and new art inspired by Leuven's versatility. The collection is mainly focused on the art production in Leuven and Brabant from the Middle Ages to the 19th century. It includes Constantin Meunier, Jef Lambeaux and Georges Minne.
In addition to the permanent collection, M also presents temporary exhibitions of both old masters and contemporary artists. Discover the personalised offer for groups and families. 
The impressive architecture deserves special attention. Designed by Belgian top architect Stéphane Beel, the complex integrates historical buildings and contemporary architecture. Don't miss the enclosed garden and roof terrace.
Practical info
Individual visitors:
Everyday: 11:00-18:00
Thursdays: 11:00-22:00
Wednesdays: closed
only by reservation (with audioguide)
More information: website M Leuven
Groups (from 10 persons upwards):
Tip:  (attention: not available for the moment)