Since November 11, 2018, the Peace Carillon has echoed across Park Abbey. Every Wednesday, carillonneur Luc Rombouts performs. The carillon is all about peace and reconciliation. Learn more about this unique project in the timeline below: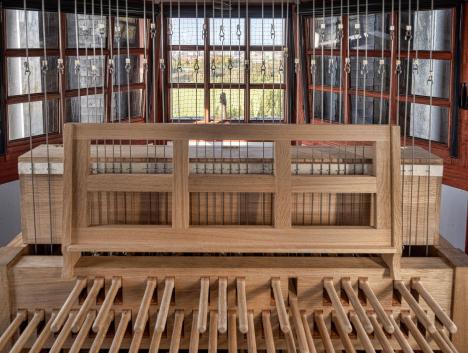 The Peace carillon: 100 years after WWI
At the beginning of the First World War, in 1914, more than 240 citizens of Leuven lost their lives during the infamous Fire of Leuven. Monuments and works of art also went up in flames, such as the carillon in Saint Peter's Church. It originally came from the tower of the St. John the Apostle Church, the parish church in the Park Abbey.
Connecting through culture
In 2014, exactly 100 years after the facts, the city archivist of the German city of Neuss made a shocking discovery. Apparently, at the time, reservists from his city were jointly responsible for the most tragic page in Leuven's history. That is why, in 2016, Leuven and Neuss signed a cooperation charter "to connect through culture what was once separated by fire".
A century after these cities were each other's enemies during WWI, they are now partners in a new peace carillon in the Park Abbey. The reconstruction of the 18th-century carillon will be entirely dedicated to peace and reconciliation. The sounds of the carillon will reverberate for the first time on 11 November 2018 (Armistice Day).
Financing
The creation of the new peace carillon requires a financial input of 500,000 euros. It is being financed by the city of Leuven, the city of Neuss and by crowdfunding.
Want to know more? Read the interview with carillonneur Luc Rombouts !