As from the begining of March, the newly restored Saint Peter's Church is the setting for an experience that touches all your senses. Immerse yourself in the fascinating story of this Gothic church and renew your acquaintance with its art treasures: outstanding works by Flemish Masters in their authentic context. Due to corona virus the visitor centre is temporarily closed. 
Outstandig artworks in their authentic setting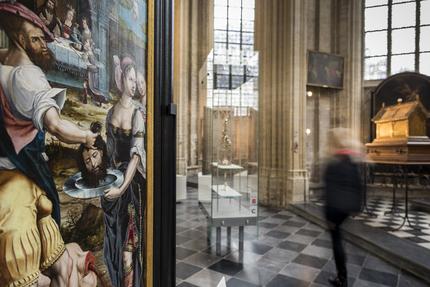 The Grote Markt is the historic heart of Leuven, with the city hall and Saint Peter's Church. The imposing Gothic church is completely restored since the begining of March, after years of restauration works. Museum M Leuven exhibits the art treasures of the church in all their new glory. You will discover a unique ensemble of artworks in their original historic setting, located in the places for which they were made, with the absolute masterpiece 'The Last Supper' by Dieric Bouts.
Dieric Bouts: city painter of Leuven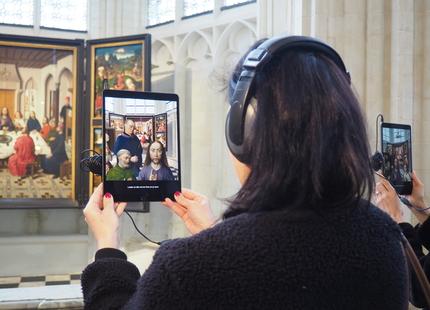 Only a handful of 15th-century triptychs that match the quality of 'The Last Supper' by Bouts are still exhibited in their original settings. Moreover, the work is intimately linked to Leuven and its history. Dieric Bouts transposed an event in the life of Christ to his own age and his own city, Leuven. In a genious and original manner Bouts uses perspective in this paiting.
Discover 12 Flemish masterpieces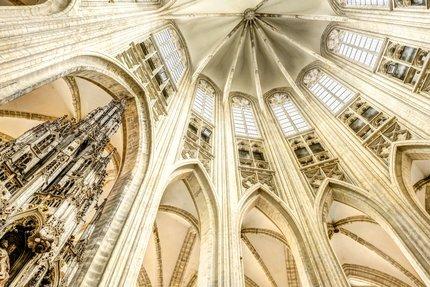 Other art works were also given prominent places in the new interior arrangements, twelve in total, such as the tomb of Henry I, a series of paintings of local legend 'Proud Margaret', the design models of the church' tower, the 'Sedes Sapientiae', and the 'Triumphal' Cross by Jan Borman. The 'Edelheere Triptych' (1443), the oldest copy of the world-famous 'Deposition' by Rogier van der Weyden (1438), also returned to its own chapel in the church. 
With a mixed reality tool museum M Leuven brings the artworks to life and let you discover the vibrant Leuven of the past and present.