Visitors often say that Leuven is a true cycling city. They are amazed by the crowds of students taking to the streets of the city centre and the locals pedalling to school or work by bike.
They also tell us that it's incredibly lovely to cycle in Leuven. The city centre is almost completely car-free, making the bicycle a perfect way to explore the city. Moreover, you can be out in nature after barely 10 minutes of cycling in any direction.
Dirk, Leuven's first bicycle courier, will be happy to give you his tips. He cycles 17,500 kilometres a year to deliver orders around the city.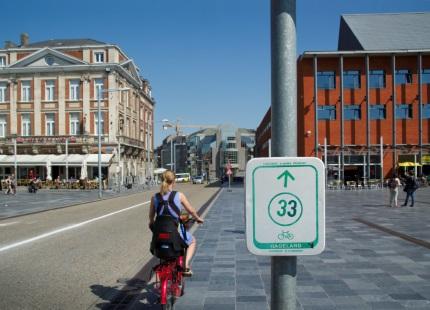 You can plan your own route via the cycling network. These points are located on the most beautiful, safest cycling paths and can be identified by a number on a white & green sign. The major advantage of this system is that you as a cyclist can decide for yourself how far and along which route you want to cycle.
 
Don't worry if you get a flat tyre along the way! There are four 'bicycle repair kiosks' around the city that you can use for free. You will find a bike pump, screwdrivers, Allen keys, wrenches, and tyre levers.
 
Would you like to get more personal tips? You'll often find me at Lettuce Leuven in the afternoons; this is where I go take a break and recharge my batteries.