Een citytrip kan je duur komen te staan. Restaurants hier, cafeetjes daar en dan ook nog toegangstickets voor culturele bezienswaardigheden.
Maar het kan ook anders; in Leuven kan je namelijk prima vertoeven met een klein budget. Je kan van ontzettend veel culturele locaties, prachtige bezienswaardigheden en gezellige horecazaken genieten zonder al te veel uit te geven. 
Hieronder volgen dan ook 7 budgettips in Leuven van Chintana Van Caster (Travelbird).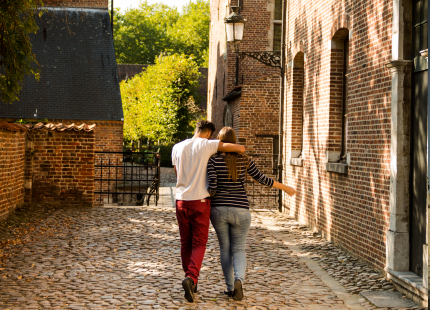 A city trip can be expensive. A few restaurants here, a few cafés there, and we can't forget entrance tickets for cultural activities. But it doesn't have to be like that; in Leuven, you can easily have fun on a smaller budget. You can enjoy an incredible amount of cultural locations, beautiful sights, and cosy cafés and restaurants, without having to spend all your money.
Below are 7 tips for visiting Leuven on a budget by Chintana Van Caster (Travelbird).
1. Great Beguinage | You can find cultural activities and relaxation in Leuven! Escape all the pressure for a bit and wander through a village in the middle of the city. The Great Beguinage and its authentic cobblestone streets are located on three hectares with around 100 picturesque little houses, where beguines used to live. The beguinage, which is a UNESCO World Heritage site, is also the largest existing beguinage in Flanders! So it's no surprise that the Great Beguinage is one of the most Instagrammed tourist attractions in the world. Stroll through dozens of little streets and enjoy a delicious picnic along the babbling Dyle River while you totally relax. And you don't even have to take a bus or a train to get there!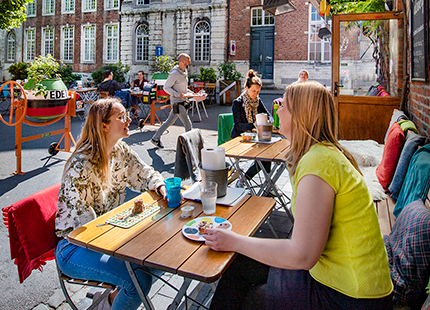 2. Beleuvenissen | On the lookout for music and ambience without having to pay a cover charge? Every year, the city organises 'Het Groot Verlof' (Summer in Leuven) which has a great range of musical and culinary events and everything in between. Visit the fun Beleuvenissen music festival in July. You can enjoy great concerts throughout Leuven on three Fridays during this month! From fanfares to trendy contemporary artists, everyone will find something to suit them during this summer festival!
 
3. Dewerf | Are you visiting the city on a budget? You can still have a fantastic meal in Leuven, like at Dewerf. It's a cosy, colourful student restaurant, with a special concept. In addition to their budget-friendly menu, their dishes are also unique. Opt for a delicious coffee in a thermos with Prince biscuits, a big breakfast where you can squeeze your own orange juice for a fresher-than-fresh glass of orange juice, or order spaghetti and eat it directly from the pot. When the weather's nice, you can enjoy your perfect meal on the large terrace. Too hot? Then you can even ask for a refreshing footbath.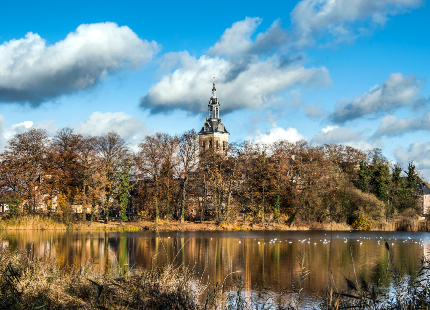 4. Park Abbey | Just outside the city, you'll find the gorgeous Park Abbey, surrounded by a beautiful park that was once a ducal estate. Enjoy the fabulous natural landscape, the enchanting ponds, and the impressive abbey. Skip the tour and pass by the terrace. The tour is nice, but it's not a must. But instead, enjoy the architecture around the abbey and take along a tasty picnic of your own so you can enjoy it out in nature, with your feet in the grass.
 
5. STUK | Want to go to a performance or the movies? This is another area in which Leuven is budget-friendly. Skip the Hollywood movies and head over to STUK, the home for dance, image, and sound. You can see the best performances, screenings, and exhibitions starting at just 5 euros. In addition, workshops are organised, and participation in these is free or at a very low cost! Do you live or are you staying in Leuven for an extended period? Then buy a STUK card for just 12 euros and enjoy great discounts on their eclectic range.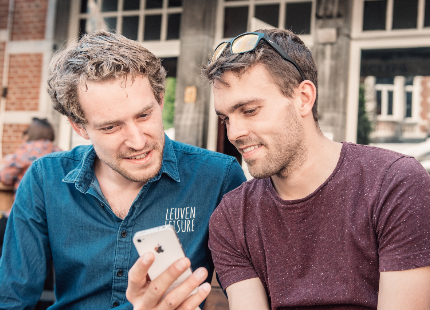 6. Leuven Walk App | There are quite a few guided tours through the city that will take you past the Leuven highlights. However, these tours can be expensive and it's very easy to save money on them. Head out on your own with the Leuven Walk App. Install the app on your phone and discover some of the greatest sights. Let it take you from City Hall to the Oude Markt and get more info about each highlight entirely for free.
 
7. ILUVLeuven Ticket | While there is a lot to do and see in Leuven without having to pay a cent, there are also sights in the city that are well worth the money. Like the museum M Leuven or Town Hall. Luckily, visiting these fabulous buildings isn't too expensive. Because when you buy the ILUVLeuven Ticket, you can save a tonne on entry fees. Instead of paying 25 euros for each ticket, you only pay 16 euros. Thanks to the ILUVLeuven Ticket, you can spend a carefree day enjoying fabulous artwork at the Museum M, gaze in awe at Dirk Bouts' 'The Last Supper' in the M-Treasury of St Peter's, and gain access to both the impressive Gothic Town Hall, as well as the prestigious University Library & Tower.