A story of both past and present
Expo 6.5 < 28.8
People are constantly on the move. Often with a purpose. Well-thought-out or simply unavoidable. In religion 'taking to the road' is a frequently occurring and expressive motif: a path to be followed. Moved or driven by faith, people have been travelling for centuries: Biblical figures, missionaries, pilgrims, refugees...
On the move takes us on a journey along religious routes, meeting holy companions and visiting places of pilgrimage. This thematic exhibition sheds light on various aspects of being 'on the road' in religion. People have been treading such paths since the very beginning: expelled from Paradise, fleeing Pharaohs and Kings… or like countless thousands of believers, choosing to go on a pilgrimage.
Even nowadays, many believers are on the move: forced to flee because of their faith. This exhibition therefore tells a story of both past and present. And as always, we bring age-old art and heritage objects into dialogue with the work of contemporary artists.
Contemporary artists
The exhibition places religious heritage in dialogue with works by contemporary artists Sven 't Jolle (BE), Karl Philips (BE), Aslan Goisum (RU) and Erkan Ozgen (TR).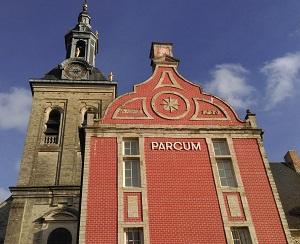 Museum for religion, art, and culture
PARCUM has a permanent exhibition and also offers temporary thematic exhibitions at the crossroads of religion, art, and culture. They showcase never-before-seen heritage pieces from churches, abbeys and monasteries in a contemporary way. There is also a constant interaction between ancient and contemporary art at the exhibitions.
PARCUM pays attention to the interaction between contemporary themes and religious heritage, between believers and non-believers, between different denominations and ideologies, between young people and elderly people.
Opening hours: Thursday - Sunday from 10 am to 5 pm.
Closed on Monday