Pond work nearing completion
After several weeks of mowing and maintenance, the ponds in the Abdij van Park are once again filled with water. Now that the work on the ponds is coming to an end, we have begun restoring the Vijverdijkpoort gate and arched bridge.
The City of Leuven launched the significant restoration campaign of all buildings and landscapes in 2012. Many buildings on the abbey site have been restored. This year, the focus is on the ponds.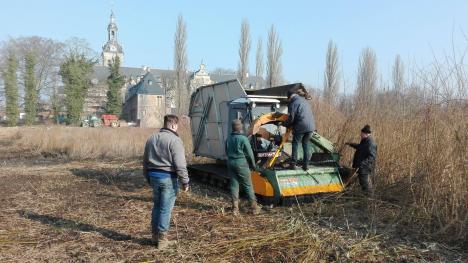 Mowing
The mowing work carried out in ponds two and three, which had become extremely overgrown after being drained for the maintenance work, was hard not to notice. A specialised firm removed the vegetation in the ponds and marshes using an amphibious lawn mower. This vegetation consisted primarily of willows, cattails and reeds. The silt remained untouched.
The water management structures have also undergone maintenance work. The oldest of these structures date back to the 17th century and regulate water levels. The structures can lead water from the Molenbeek to the ponds, release water into the Leibeek and regulate the levels between the various ponds. Emergency spillways have also been created on the pond dikes to manage any peak storm flows.
The difference between before and after the maintenance work is also very apparent to the naked eye. Move the slider from left to right to see the metamorphosis: