Outdoor yoga at Park Abbey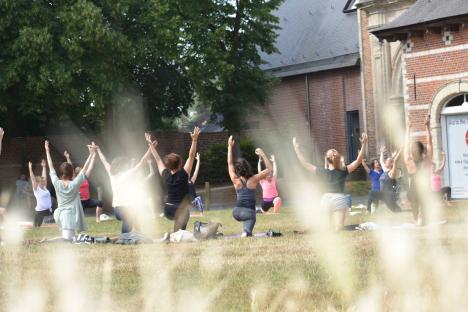 It was a cool and cloudy morning July 21st when people arrived for a special outdoor yoga class at Park Abbey. The abbey was peaceful as ever and there was an immediate sense of serenity as you strolled into the central courtyard. A nice break from this summer's extreme heat!
Meagan Klein, owner and teacher of Mula Yoga, arrived early to set up shop at Neerhof, the inner court. The large grassy area in front of the old Wagon House, surrounded by history, culture, and nature, set the perfect scene for gentle vinyasa flow.
Sense of community
One by one, the students started to arrive. Some of them familiar faces and regular students with Mula Yoga, but most of them new clients and friends. Meagan was thrilled to have twenty-six amazing students join her for this special event. Men and women, old and young, beginners and advanced – everyone was accounted for. One student even brought her husband and two young sons to join the fun!
As students arrived and took their spots, there was a buzz echoing through the courtyard. Students and their neighbors said greetings and made new friends as they waited for class to begin. A sense of community and oneness hung in the air.
Radiating energy
As Meagan took her spot at the front of the courtyard, the peace and quiet quickly returned. Class began with a simple guided meditation to get everyone into the right frame of mind, as well as in tune with their body and breath.
For the next hour, Meagan led students through a gentle, vibrant vinyasa flow class. The energy was radiating from the group and it didn't take long for the sun to follow suit and make its appearance.
After class, Mula Yoga provided a lovely lavender, mint infused refreshment to cool down and allowing students another chance to connect with one another.
Future classes?
Meagan Klein was very pleased with the outcome and the result of this class. "This is what yoga is all about. So many people, from so many walks of life, brought together for nourishing the mind, body and soul... These are the kinds of people who create a community and foster love and acceptance within that community. These are the kinds of people we need to bring together!"
Meagan is leaving Leuven for Copenhagen in a couple of weeks, but she hopes the abbey can continue to bring together the community. "I really hope that there will be future classes at Park Abbey, to spread the word of love, light, and acceptance. Namaste!"
If you want to stay informed about future yoga sessions, keep an eye on our Facebook page. And for the record: you are always welcome at the abbey site with your yoga mat!