Meet Brecht, farmer at Park Abbey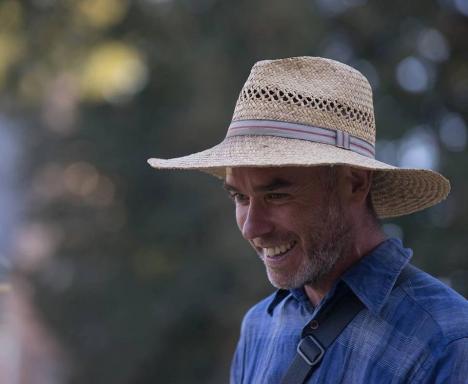 "I always wanted to be a farmer when I was little"
Traditionally, agriculture and agricultural innovation have been carried out on the Abbey site. For several years now, farmers from De BoerEnCompagnie have been working the fields around Park Abbey. The farming organisation wants to take steps towards more sustainable agriculture, together with local residents. "We hope to convince the people of Leuven of the benefit of our agricultural model."
Brecht Goussey (46) is one of the three farmers who run small-scale organic farms on the Abbey site. "I started here in 2015. But I've long been familiar with Park Abbey. I came here as a student, to go for walks and take pictures. I was into black and white photography – those photos should be lying around somewhere," he smiles.
De BoerEnCompagnie
Brecht and his colleagues founded De BoerEnCompagnie in 2017. "We went from 5 hectares to 30 hectares in two years," continues Goussey. "And it may sound cliché, but it's very hard work. We have a decent income, but if you convert that into working hours, it is quite modest."
As a little boy, Brecht dreamed of becoming a farmer. "I said that when I was seven years old. Everybody talked me out of it back then," he laughs. "Now, it is also very difficult to build a business as an independent farmer. It is thanks to our families that we can do this and especially our wives, who support us tremendously."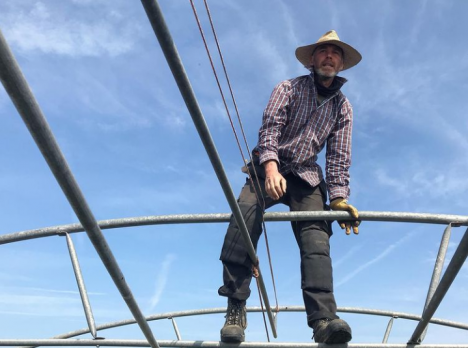 CSA
Brecht's boyhood dream came true when 'Community Supported Agriculture' developed in Belgium. "CSA, or community farming, means that our members share the harvest risk with the farmer. They make this concrete by paying an annual contribution at the beginning of the season. This amount covers the costs of our farm, including our wages. If the harvest is good, there is a lot to share, but when the harvest is less, then there is also less to share. By diversifying the supply, we as farmers keep the harvest risk as low as possible."
The company's range consists of self-harvesting vegetables and dairy packages, as well as flour, potatoes, beef cattle, and pork. "According to this agricultural model, their colleagues from Het Plukgeluk also grow organic flowers in their fields."
Even if you do not take a share in the harvest, you can still buy products from De BoerEnCompagnie. "Our sales include pasta, potatoes, and dairy products in the Abbey Shop. They make bread at the Bakery Korst using grain ground on our mill. And since last summer, there is a milk vending machine under the Sint-Janspoort. Now, nine months out of the year, you can tap fresh, raw milk there," says Brecht.
About soil quality and cycles
Brecht and his colleagues work hard on soil quality. "Organic agriculture is not about feeding the plant, but about the soil and soil life. The fields around the Abbey are sandy loamy soils. It contains an enormous food web, just think of worms and ladybirds, but also millions of microorganisms. The more biodiversity in the soil life, the healthier the crops will be and the healthier the people who eat them will be," explains Brecht.
This is why Brecht advocates for locally, ecologically, and fairly produced food. "Traditional agriculture imports animal feed from the other side of the world. This leads to very unbalanced situations. I believe that the number of animals on a farm should be proportionate to the area available for cultivating feed for the animals. We want to be a mixed company that closes cycles and respects the ecological balance."
Surpluses from one activity are utilised for another at De BoerEnCompagnie. "For example, the bran from the ground grain is good feed for pigs and cows. Milk whey (a liquid that is produced during the preparation of cheese, ed.) is a treat for pigs. That way, you avoid waste," Brecht explains.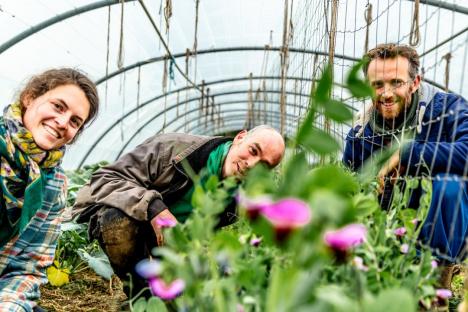 "Our convincing agricultural model"
In a few years, De BoerEnCompagnie will be housed in the Tithe Barn, the stables, and the milk house. There are also training rooms above the stables for vzw Landwijzer, where Brecht and his colleagues learned the trade. "Historically, the abbeys are a great place for training and agricultural innovation. We also want to bring that back to life."
"We can't really wait for the overall restoration. When the renovations to the stables are finished, we'll also be able to process milk at the Neerhof. That way, even more people will find out that we are active here. I hope that in time, we will be able to convince even more people from Leuven of our agricultural culture," concludes Brecht.