Stained glass windows: back from a long journey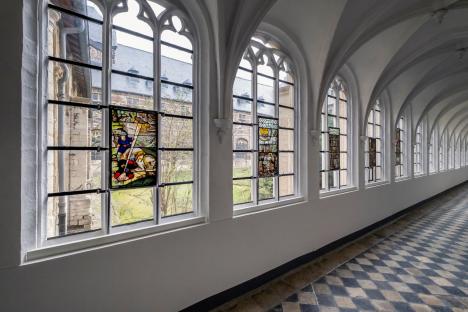 In the Park Abbey, you can view authentic stained glass windows from the 17th century again. After some 200 years of being adrift, the 20 restored windows have returned in the cloisters of the abbey.
In the 17th century, Jan De Caumont of Leuven produced 41 stained glass windows for the Park Abbey. Each of the 41 stained glass windows had nine panels. He worked on them for nine years, between 1635 and 1644. The stained glass windows portray scenes from the life of Saint Norbert.
French revolution
Because of the aftermath of the French Revolution, the Norbertines sold the valuable stained glass windows in 1828 to the rich Brussels industrialist Dansaert. Over the years, the stained glass windows came to be dispersed among different locations all around the world.
In the seventies, some of the original stained glass windows already returned to Leuven. In 2005, our archivist Leo Janssen, a lover of classic stained glass windows, began the quest for the remaining windows. Thanks to Edgard Goedleven (†), member of the management committee of the Park Abbey, he was able to contact the owners, even as far as the United States.
Masterpieces decree
After that, things happened quickly. Under the masterpieces decree, the Flemish Government bought eight stained glass windows in 2013 from the Yale University Art Gallery. They came back in 2016 - the city of Leuven paid for the transport. Subsequently, two panels were put up in a well-visited exhibition in the historic town hall.
The return of six further stained glass windows from the Corcoran Art Gallery in Washington set a crowdfunding appeal in motion in 2016 to have the original stained glass windows restored and replaced. At present, the stained glass windows are replaced in their original place.
Fragments
In the course of their history, the stained glass windows were divided into panels. An examination now has to show which panels belong together in the same scene and what techniques might possibly be used to accomplish the restoration of these stained glass windows.