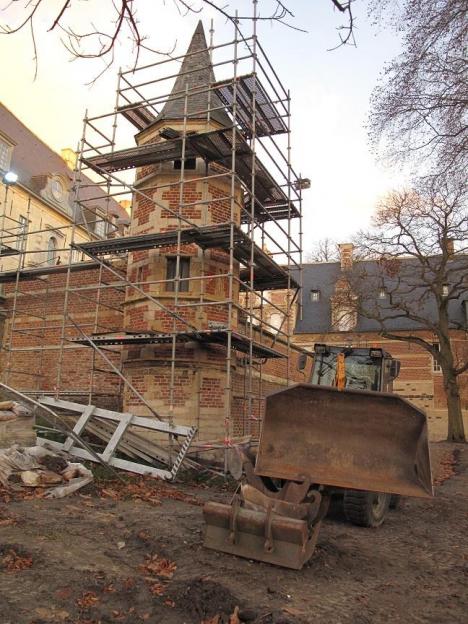 2019 marks the eighth year of the major restoration of Park Abbey. The works are very visible on the abbey site. High time for a run-down of which steps will be taken in 2019.
Many buildings on the abbey site have been restored, including the watermill, the coach house, the guest house, the west wing, and the St Mary's Gate. This year the Alamire Foundation's 'Library of Voices' will be operational in St Norbert's Gate. This library makes musical manuscripts available to the general public via digital media.
In PARCUM the exhibition 'Religion. Healing. Dividing' runs until 10 March 2019. More about the next exhibition will be communicated later this year.
Visible restoration works
The restoration works are more visible than ever because almost every building on and around the Neerhof (central inner courtyard) are under construction:
Work on the Provisor's House started in October 2018. The restoration covers both the interior and exterior of the former office of the financial administrator. The restoration will take about two years. It will house offices and office space in the future.
The Tithe Barn has also been under construction for several months. It will be given a use that is in keeping with its ancient function. The barn will serve as a covered indoor area and will also hold the Abbey shop.
The milking parlour will be a dairy factory for fresh milk and cheese. The stables next door will house the cows of BoerEnCompagnie. Outdoor stables will also be built for them.
The other buildings will be used by vegetable farmers, organic farmers, and the educational hands-on farm. Vzw Landwijzer will train new organic farmers in classrooms above the stables.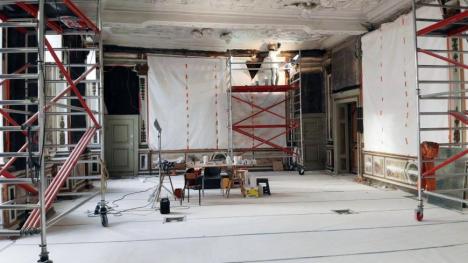 Guest quarters and south wing
Work on the Guest Quarters will last until the spring of 2019. The Guest Quarters will reopen with offices and a microbrewery in the autumn. The latter will operate in accordance with the brewing tradition that characterised Park Abbey into the nineteenth century.
Experts are still busy with the architectural restoration of the south wing. Jan Verbeke's team is hard at work in the refectory. The baroque stucco ceilings are being painstakingly restored.

The south wing will be fully renovated by 2020. It will be accessible once again, as will the library with its unique ceilings. We also plan to put the 17th-century stained glass windows back in place in the future.
In short, it will be another year of lots of industriousness – hopefully you'll come and inspect the progress with your own eyes :-)