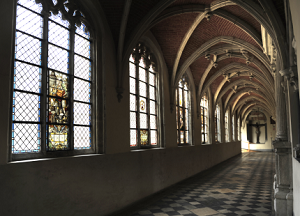 Currently closed as a measure of fighting the coronavirus
Visit Park Abbey
A guide takes you to the heart of the abbey under restoration. During the tour you are given a unique look behind the scenes of different sections of the building, such as the cloister, the chapter house, etc.
Please note that not all parts of the abbey building are accessible to the public due to the ongoing restoration works! More info on this page.
Practical info
Saturdays & Sundays: 2 pm
Not on public holidays (July 21, August 15, November 1)
Price: 5 euro incl. visitors' info guide (in Dutch, English, French, German and Spanish)
Duration: 45 min
Bookings recommended: T +32 (0)16 40 01 51 or info@abdijvanpark.be
Blijf op de hoogte
Krijg de laatste nieuwtjes en ons evenementenkalender in je mailbox en vind ons ook op Facebook!