"In de abdij ben ik veel jonger"
Toen Marc (68) in onze nieuwsbrief las dat de bibliotheek was verhuisd, kwamen mooie herinneringen naar boven. Hoe dat komt, lees je in onderstaand relaas.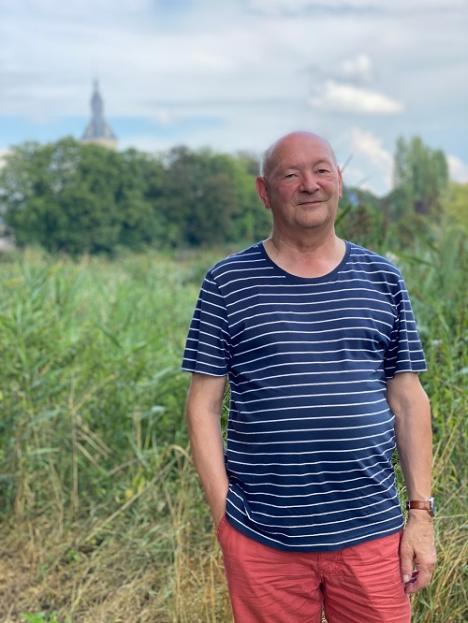 "Soms vormt een bepaalde plaats de rode draad in je leven. Bij mij is dat om een of andere reden de Abdij van Park. Ik ging er in mijn jonge jaren al verse melk halen bij broeder Frans, op het neerhof. Toen ik werkte aan de universiteit, kwam ik er bijna wekelijks. En vandaag de dag kan ik de kerktoren zien, uit mijn raam."
"Ik las onlangs het verhaal van die jongens die het archief verhuisd hebben naar de historische bibliotheek. In de jaren negentig heb ik ongeveer hetzelfde gedaan. Ik reed toen als chauffeur rond in Leuven – ik bracht boeken naar de verschillende universiteitsbibliotheken. Professor Jan Roegiers zei me dat ik daar later, aan de hemelpoort, voor beloond zou worden", glimlacht Marc.
Digitaliseren van boeken
"Samen met collega Staf Kamers, die later stadsimker werd, heb ik toen alle boeken uit de rekken gehaald en vervoerd naar de universiteitsbibliotheek, zodat men ze kon digitaliseren. Elke vrijdag ging het op en neer naar het Ladeuzeplein. Maanden aan een stuk. Telkens met de hulp van Zeef van Bragt, penningmeester en drijvende kracht van de Vrienden van de Abdij."
"De abdij was in die tijd in verval. Op het binnenplein was nog beetje boerderij, maar ook veel minder dan vroeger. Tijdens een rondleiding zei ik aan toenmalig abt Swarte: 'Amai, wat een bibliotheek'. De abt begreep dat als 'Amai, er is veel werk aan.' Maar ik was oprecht onder de indruk!""We hebben de bibliotheek in zijn totaliteit in- en uitgeladen. De ironie wil natuurlijk dat ze die bib later opnieuw hebben leeggehaald voor de restauratie. Versta me niet verkeerd: het is prachtig dat de stad Leuven daar werk van heeft gemaakt. Het kunsthistorische decor van de abdij is uniek. De rust komt me tegemoet als ik op de abdijsite kom."
"Alsof het gisteren was"
"Ik heb veel zien veranderen. Ik was erbij toen Staf zijn bijenhal heeft mogen plaatsen in de conventstuin. Samen met de Vrienden van de Abdij heb ik ook de renovatie van de paviljoentjes zien tot stand komen. Ik herinner me dat alsof het gisteren was. Dat is nog zoiets: als ik aan de abdij denk, ben ik ineens 20 jaar jonger."
"Ik draag de abdij in mijn hart. Ik ga zondagochtend naar de markt in Heverlee, waarna ik mijn moeder op het kerkhof bezoek. Daarna loop ik langs de abdij. Je kan ook in een bos gaan wandelen, maar daar heb je geen vijvers of watervogels. Ik ga niet intreden, maar ik beschouw de abdij als mijn tweede thuis", besluit Marc.