"Ik zie de zon opkomen in het abdijdomein"
Johan Morren (58) is de officieuze huisfotograaf van Abdij van Park. Dankzij hem verschijnt de toren van onze Sint-Jan-de-Evangelistkerk regelmatig in de krant en op televisie. "Ik ben een vroege vogel, dus wandel ik regelmatig rond zonsopgang langs de vijvers."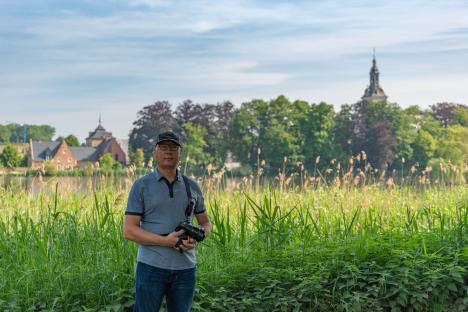 We ontmoeten Johan op ons abdijdomein, gewapend met zijn fototoestel. Hoe hij de abdij heeft leren kennen? "Ik ben een geboren en getogen Leuvenaar, maar ken de abdij pas sinds mijn twintiger jaren. Ik leerde toen Ann, mijn vrouw, kennen. Die is van de wijk Terduin - we zijn hier letterlijk onder de kerktoren komen wonen.  Eerst op de Geldenaaksebaan, later in de Pakenstraat."
De abdijsite was toen nog niet de aantrekkingspool die ze nu is. "Ik heb het domein pas echt leren kennen door onze kinderen. Mijn twee zonen en mijn dochter zijn nog gedoopt in de kapel van de abdij. Met hen trokken we vaak richting het natuurdomein. 's Winters bijvoorbeeld, om te schaatsen op de vijvers", mijmert Johan.
Passie voor fotografie
Sinds een jaar of tien maakt Johan prachtige foto's van de abdij. "De passie voor fotografie heb ik van mijn papa geërfd. Die had een Rolleiflex, met een dubbele lens. Op mijn zestiende kocht ik mijn eerste analoge reflexcamera. Ik woonde toen vlak bij de brandweer en trok erop uit als die opgeroepen werd. Ik was een ramptoerist van het eerste uur", lacht Johan.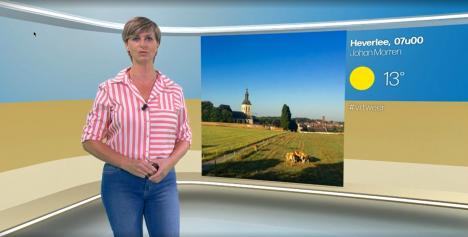 Tegenwoordig is Johan eerder een vroege vogel. "Rond 5-6 uur trek ik mijn stapschoenen aan en maak ik een wandeling rond de vijvers. Ik zie de zon opkomen aan de abdij. Altijd spot ik wel iets nieuws om een mooie foto te maken. Onlangs nog, aan de Vijverparkpoort, waar ik al ontelbare keren passeerde. De pas opgekomen zon kwam er zo mooi tussen het traliewerk door. In bepaalde periodes van het jaar komt ze ook op tussen de bomen. Er is dan een gouden gloed die zich enorm mooi laat vastleggen op beeld."
De amateur-fotograaf ziet de zonsopgang ook vanuit zijn zolderkamer. "Als ik 's ochtends aan mijn computer kom, trek ik eerst mijn dakraam open om te kijken of er geen mooie weerfoto inzit. Die foto's zet ik dan op Twitter en soms staan ze dan te pronken in de krant, of tonen Frank of Sabine ze bij het weerbericht. Het is ook zo'n mooi vergezicht", aldus Johan.
Ijsvogel
Johan ziet fotografie bovenal als een leuk tijdverdrijf. "Je bent dan puur bezig met je omgeving. Zo vergeet je dagdagelijkse beslommeringen. Ik heb een degelijke zoomlens tot 400 mm op mijn camera en daar schiet je al heel mooie natuurfoto's mee. Zo leer je ook oog hebben voor de dieren."
"Alleen de ijsvogel is me steeds te snel af", vervolgt Johan. "Het vogeltje zat even geleden vlak bij het boogbrugje, maar mijn camera stond niet aan – pech! Het is ook klein en heel snel. Ik zou misschien eens op de loer moeten gaan liggen, in een tentje", lacht Johan.
Restauratie van de watermolen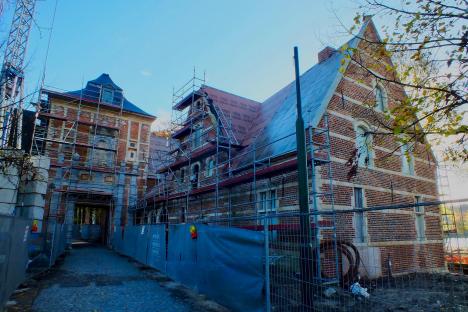 Johan zag de abdijsite de voorbije jaren grondig veranderen. "De grootste verbetering is de restauratie van de watermolen. Die heeft er tientallen jaren verloederd bij gestaan. Dat die intussen weer draait en we in dat gebouw ook iets kunnen gaan drinken, is fantastisch. Ik ben ook fan van de Abdijbrouwerij – van de eerste Libertus heb ik er x aantal gedegusteerd", knipoogt Johan.
Johan is ook Vriend van de Abdij en dus als het ware een ambassadeur van de Abdij van Park. "Ik raad vrienden en kennissen altijd aan om hier eens langs te lopen. Ook op nieuwjaarsdag kom ik hier met de hele familie even een wandeling maken. Schaatsen mag helaas niet meer, maar goed, de winters zijn ook niet meer wat ze geweest zijn. In tegenstelling tot de zomers", puft Johan.