Zonnebloemen aan Norbertuspoort
Aan onze Norbertuspoort groeien deze zomer opnieuw vijf zonnebloemen. Maar hoe snel, en hoe hoog? 🤔 Doe mee met onze zomerwedstrijd!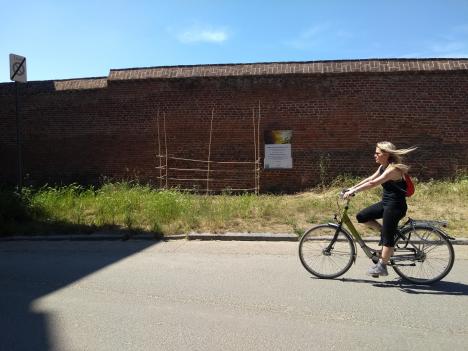 Net als vorig jaar kwamen de zonnebloemen er in het kader van onze zomerwedstrijd op Facebook. De scheutjes komen van bloemenveld 't Plukgeluk en werden eind mei op de abdijsite geplant. De mensen van tuinbouwproject De Wikke maakten er een mooie bamboeschutting voor.
Zomerwedstrijd op Facebook
Waag een gokje op onze Facebookpagina: welke bloem bereikt als eerste de lengte van twee meter? Wie gokt op de juiste bloem en ook nog eens kan inschatten wanneer die bloem de kaap van twee meter overschrijdt, maakt kans op een mooie prijs!
Iedereen kan (één keer) deelnemen op onze Facebookpagina. Het wedstrijdreglement lees je hieronder. Alvast veel succes gewenst!
Zonnebloemenwedstrijd 2020 - Wedstrijdreglement
Dit reglement bevat de voorwaarden die van toepassing zijn op de zonnebloemenwedstrijd anno 2020, die loopt op de Facebookpagina van Abdij van Park. Deelnemers aanvaarden het wedstrijdreglement bij deelname.
Principe
De zonnebloemenwedstrijd wordt georganiseerd door de bvba Erfgoedsite Abdij van Park. Die deelde op 27 mei 2020 een bewerkte foto van de muur aan de Norbertuspoort, waar deze zomer opnieuw vijf zonnebloemen groeien. Op de Facebookpagina van Abdij van Park vraagt men welke bloem (nummer) het eerst twee meter groot gaat worden, en wanneer precies (datum) dat gaat gebeuren.
Reageren kan tot en met 30 juni 2020. Deelnemers kunnen een boeket van bloemenveld 't Plukgeluk winnen, en honing van onze imker Staf Kamers.
Deelname
Iedereen mag 1 keer deelnemen aan de wedstrijd, ongeacht leeftijd of woonplaats. Minderjarigen moeten wel de expliciete toestemming hebben van hun ouders of voogd. Als deelnemer moet je ook in staat zijn om je prijs te komen afhalen op de abdijsite, op een vooraf afgesproken moment.

Deelname kan enkel in eigen naam gebeuren. Een reactie kan dus nooit uitgaan van meerdere personen of een bedrijfspagina. Iedere persoon mag slechts eenmaal, per uniek Facebook-profiel, aan de wedstrijd deelnemen.
Periode
De wedstrijd startte op woensdag 27 mei 2020. Men kan een gokje wagen tot en met dinsdag 30 juni 2020. De wedstrijd eindigt zodra één van de zonnebloemen twee meter bereikt heeft.
Wedstrijd
Bij deelname dient men zowel het nummer van de bloem (1, 2, 3, 4 of 5) als de datum waarop ze twee meter bereikt in te geven, zoals in het voorbeeld. Inzendingen worden rechtstreeks gepubliceerd, als reactie op de Facebookpost, en zijn zichtbaar voor iedereen. Het is niet toegelaten je eerste reactie 24 uur na publicatie nog te bewerken.
Eens één van de bloemen twee meter heeft bereikt, worden de deelnemers die op de bewuste bloem gegokt hebben, weerhouden. Daarop wordt de datum waarop de bloem twee meter haalde, vergeleken met de data waarop de deelnemers dat voorspelden. De deelnemer die het dichtst bij die juiste datum zit, wint. Als er sprake is van een ex aequo, wint de persoon die als eerste het juiste (of dichtstbijzijnde) antwoord gaf. Druk-, spel- of andere fouten kunnen niet ingeroepen worden.
Prijzen
Een prijs zal worden toegekend aan de winnaar (titularis van het Facebookprofiel) en de vier deelnemers die op de juiste bloem gokten, maar er in tijd verder af waren. De prijs kan in geen geval afgestaan, te koop aangeboden of ingeruild worden voor een som geld.
De winnaars krijgen bericht dat zij hebben gewonnen via Facebook. Ze worden uitgenodigd op een gezamenlijk moment, waarvan een foto zal worden gedeeld op de Facebookpagina van Abdij van Park. De winnaars van de wedstrijd verlenen dus toestemming om kosteloos hun naam, foto en/of hun winnende antwoorden te reproduceren en te publiceren, in het kader van de communicatie rond de wedstrijd of ter promotie van de activiteiten van de Abdij van Park.
Algemeen
De organisator behoudt zich het recht voor om in elke afzonderlijke jurisdictie de wedstrijd op elk ogenblik op te schorten of in te trekken indien zij daartoe gedwongen wordt omwille van wettelijke redenen of omwille van dwingende zelfregulerende redenen, zonder enig recht op compensatie of tegemoetkomingen ten aanzien van de deelnemers. Indien er wijzigingen aan het reglement gemaakt worden, zullen die meegedeeld worden op www.abdijvanpark.be.
De uitslag kan ook niet worden aangevochten. Facebook ondersteunt of voert geen promotie rond deze wedstrijd en kan dan ook niet verantwoordelijk worden gesteld bij eventuele problemen.
Bij vragen of problemen inzake de zonnebloemenwedstrijd kunnen geïnteresseerden terecht op het e-mailadres abdijvanpark@leuven.be.