Collectie van PARCUM verhuist naar Bierbeek
De collectie van PARCUM is verhuisd: van Landen naar Bierbeek. Daarom spraken we met Phaedra Bosmans, de collectieverantwoordelijke van het dialoogmuseum. "We kunnen onze kunststukken nu nog beter bewaren."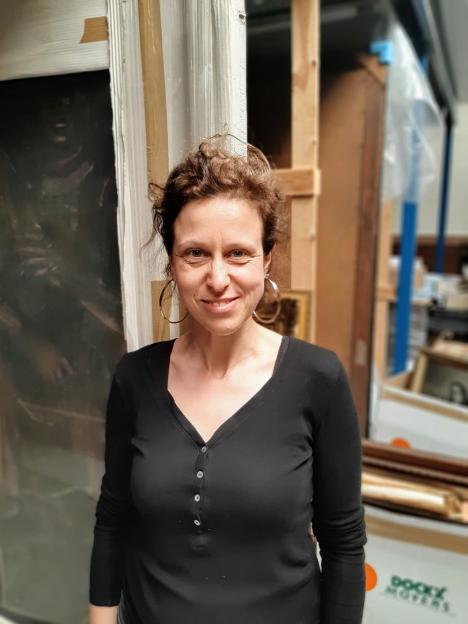 Phaedra Bosmans (43) werkt intussen 15 jaar in de Abdij van Park. "Ik ben gestart bij het Centrum voor Religieuze Kunst en Cultuur (CRKC). Dat was nog vóór de restauratiewerken. Wij hadden toen onze bureaus in kamers waar de paters vroeger leefden. Dat was eerst nog wat behelpen: er waren nog geen vaste kantoren voor iedereen, waardoor we soms tafels moesten delen. Het was er ook koud - het tochtte daar", lacht Bosmans.
Door de restauratie zijn zowel Phaedra als het CRKC (nu: PARCUM) een paar keer verhuisd. "We hebben zowel in de cellen van de paters als in het Provisorenhuis gezeten. Intussen bevinden onze bureaus zich in de westvleugel, boven de abtskwartier. Ik vind het een voorrecht om in zo'n mooie omgeving te mogen werken", vertelt ze.
Collectie van PARCUM
Bosmans, zelf restaurateur van schilderijen, heeft als collectieverantwoordelijke zicht op al het religieus erfgoed dat PARCUM bezit. Waar een kunstwerk aan moet voldoen om tot die collectie te behoren? "Het belangrijkste is natuurlijk dat het gaat om religieus erfgoed. Let wel: het is niet omdat iets van een klooster komt, dat het religieus is. Een tafel die daar stond, is niet altijd relevant – een altaar wel."
"Onze collectie bestaat uit zaken die bekendstaan als algemeen cultureel gebruik. Bij PARCUM vinden we ook dat religieus erfgoed een inspiratiebron en uitnodiging tot dialoog kan zijn voor iedereen", duidt Bosmans.
Vlaanderen en Brussel
Het religieus erfgoed in PARCUM moet representatief zijn voor het religieuze leven in Vlaanderen en Brussel. "Dat is de regio waar wij op focussen", duidt Bosmans. "De stukken vinden hun oorsprong wel niet alleen in de katholieke of christelijke traditie. Verschillende geloofsgemeenschappen en dimensies zijn aanwezig. Ook stukken die een rechtstreekse link hebben met de Abdij van Park behoren tot onze collectie", aldus Bosmans.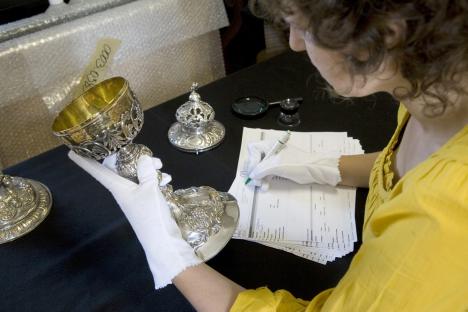 Waar dat erfgoed vandaan komt? "Soms bieden particulieren zaken aan, maar de meeste stukken komen uit kerken, kloosters en abdijen. Die vragen ons een inventaris op te maken, waarna we vaak ook helpen bij de herbestemming. We contacteren dan musea of erfgoedorganisaties die mogelijk interesse hebben in het kunstpatrimonium."
"Stukken die geen museale waarde hebben, maar nog in goede staat zijn, herbestemmen we binnen een internationale, religieuze context", vervolgt Bosmans. "Het gaat dan bijvoorbeeld om een wierookvat dat nog gebruikt kan worden in de liturgie."
5.500 nummers in inventaris
Bosmans heeft in de loop der jaren alle stukken van de collectie vastgehad. "Soms ontglipt me iets, maar over het algemeen weet ik wat er waar in onze collectie zit. Ondertussen ken ik de meeste objecten die zich in een kloosters bevinden en weet ik ook wanneer het om een zeldzaam stuk gaat. Natuurlijk niet zo goed als collega Jan Klinckaert. Die weet zo goed als alles", lacht ze.
Hoe de selectie dan precies in zijn werk gaat? "Elk werk bespreek ik met Jan Klinckaert en Liesbet Kusters, de curator van ons museum. We gaan voor unieke stukken, maar we zijn ook geïnteresseerd in de typische, gekende stukken. Als wij bijvoorbeeld een mooi Heilig Hart-beeld krijgen, willen we dat in onze collectie. Net omdat het zo typisch is.""Op dit moment bevinden zich zo'n 5.500 geïnventariseerde nummers in ons depot. Dat zijn nog veel meer kunstwerken – één nummer kan namelijk meerdere items omvatten."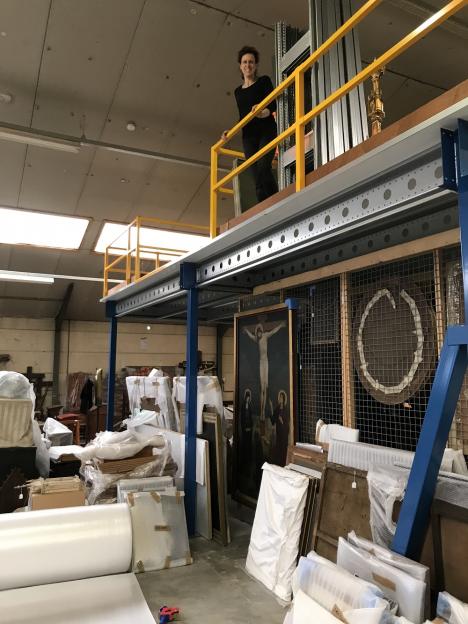 Verhuis naar Bierbeek
De collectie bevindt zich sinds kort in een nieuw depot. "We zijn van Landen naar Bierbeek verhuisd", legt Bosmans uit. "Het nieuwe gebouw is niet alleen dichter bij PARCUM, het beantwoordt ook aan de vereisten om kunst te conserveren. We kunnen elke objectsoort nu op de vereiste temperatuur bewaren."
De verhuis vond grotendeels plaats voor de corona-tijden aanvatten. "Nu ook de laatste transporten zijn uitgereden, is het zaak van alles terug te (her)organiseren. Ondertussen loopt er ook een waarderings- en selectietraject op onze collectie. Hiermee willen we de collectie uitzuiveren en beantwoorden aan ons collectieprofiel."
Zodra het kan, gaat Phaedra alles klaarzetten voor de volgende tentoonstellingen. "Bij elke expo bespreken we het thema en gaan we na welke stukken we daarvoor kunnen selecteren. Ik diep die dan op, en mijn collega Candice zorgt dan voor het transport richting Abdij van Park. Daar stellen we sinds 2017 tentoon voor het brede publiek", besluit Bosmans.
PARCUM heropent zijn deuren voor individuele bezoekers vanaf 4 juni, van donderdag tot en met zondag (10 – 17u). Vanaf juli is het museum weer open van dinsdag tot en met zondag. Meer info vind je op de site van PARCUM!