Pluk bloemen vlak bij de Abdij van Park
Boven op de berg van de Abdijstraat bevindt zich 't Plukgeluk. Wat begon als enkele bloembedden op het groenteveld, groeide daar uit tot een groot bloemenplukveld. Helen en Chris telen er planten voor hun 'oogstaandeelhouders': "Zij plukken hier letterlijk de vruchten van onze arbeid."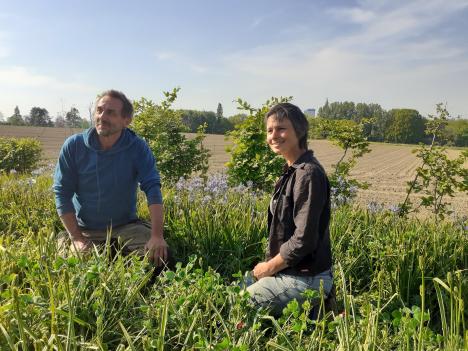 Helen Defever is tuin- en landschapsarchitect  én bioloog. Ze zat ooit samen op school met Tom Troonbeeckx van de BoerEnCompagnie. "Die wou toen al een boerderij in Abdij van Park", herinnert ze zich. "Dat werd mogelijk dankzij CSA of gemeenschapslandbouw. Dan betalen x aantal mensen een vast bedrag aan het begin van het seizoen en delen ze samen de oogst."
Bloemen tussen groentebedjes
In 2012 brainstormde Helen met Tom over de mogelijkheid om bloemen te planten op zijn akkers. "Dat hebben we toen ook gedaan tussen de groentebedjes, in de schaduw van de Sint-Jan-de-Evangelistkerk. Oogsters konden die bloemen dan meenemen, als bedankje. Zonder het te weten, startte daar 't Plukgeluk", vervolgt Helen.
Helen en haar man Chris plantten er het eerste jaar zonnebloemen, gladiolen, korenbloemen, leeuwenbekken en dahlia's. Met vallen en opstaan: "De eerste dahlia's kwamen niet uit omdat slakken de jonge scheuten tot in de grond opaten", lacht Chris. "Maar er was wel vraag naar meer. Zo ontstond het bloemenoogstaandeel bij de BoerEnCompagnie. We hadden al snel meer dan 100 deelnemers."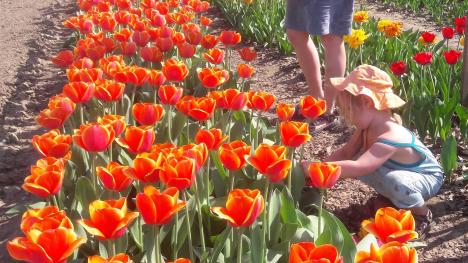 Bloemenveld
De activiteiten verhuisden in 2016 naar de weide waar toen nog de ezeltjes van de BoerEnCompagnie stonden. "Voorheen was dat een kersenboomgaard", weet Helen. "Een mooier kader konden we ons niet dromen. Het is de ideale locatie om bloemen te telen voor liefhebbers. Dankzij hun jaarlijkse bijdrage zijn wij verzekerd van een inkomen, en we delen met hen de vruchten van onze arbeid."
Hoe het dan precies in zijn werk gaat? "Wanneer je in het bezit bent van een bloemenoogstaandeel of een geschenkbon, mag je komen plukken. Oogstbare bloemen worden op het veld aangeduid met vlaggetjes. Er zijn uiteraard spelregels van hoeveel je mag plukken. Maar als je vertrouwen geeft, krijg je dat ook terug. Een heel fijn gevoel", duidt Helen.
"Voedsel voor de ziel"
Deelnemers kunnen de activiteiten op het veld ook echt beleven. "Je kan bij ons even onthaasten, op een mooie plek in de natuur. Dat is ook zo bij de BoerEnCompagnie: hun oogsters kunnen geteelde groenten zelfs omtoveren tot heerlijke gerechten. Bloemen zijn dan weer voedsel voor de ziel. Ik merk aan de mensen die hier komen dat plukken enorm veel deugd doet, zeker in corona-tijden", zegt Helen.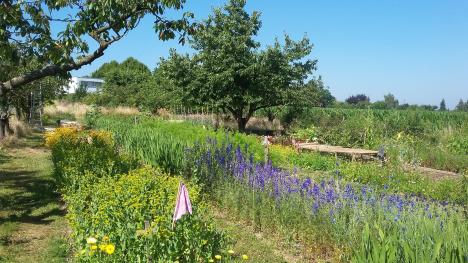 Wat valt er eigenlijk allemaal te plukken? "Veel te veel om op te noemen!", lacht Chris. "Narcissen, tulpen, korenbloemen, duizendschoon, cosmos, zinnia's, campanulas, op dit moment ook prairielelies, damastbloem, judaspenning, ranonkels… We telen ook soorten die je kan drogen, zodat je er nog langer van kan genieten."
Duifkruid, rozen en reukerwten
Wat hun favoriete bloemen zijn? "Dat zijn er óók te veel om op te noemen", lacht Helen. "Op dit moment ben ik de grootste fan van een nieuwe soort duifkruid, de scabiosa caucasica. Maar ik heb ook een zwak voor rozen en zinnia's. Chris is dan weer zot van reukerwten, omdat die zo ongelooflijk lekker ruiken. We kiezen op het veld ook zo veel mogelijk voor soorten die geuren, ook narcissen."
Sinds dit jaar is 't Plukgeluk officieel gecertificeerd als bioteler. Een belangrijk gegeven voor Chris, een voormalig boswachter. "We gebruiken sowieso geen pesticiden of kunstmest. Als teler dien je zorg te dragen voor de bodem: die is de basis van alles. Alleen zo kan je de biodiversiteit onder de grond garanderen en bovengronds iets moois laten groeien. Zo'n certificaat brengt wel een berg administratie met zich mee, maar dat hebben we ervoor over", besluit hij.
Meer info over 't Plukgeluk vind je op hun website: http://www.tplukgeluk.be/. Hieronder kan je een filmpje bekijken over de werking: