Padden- en salamandertrek in Abdij van Park
De voorbije dagen is de padden- en salamandertrek op gang gekomen. Ook aan de Abdij van Park trekken amfibieën van de spoorwegberm naar de vijver. Ook jij kan een handje toesteken!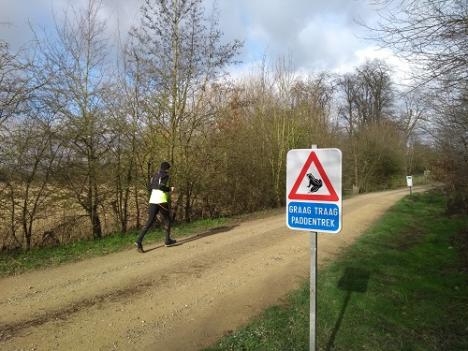 De trek van amfibieën komt doorgaans op gang eind februari. Ze vereist zachte avondtemperaturen, geen grondvorst, regen en weinig wind. Padden, salamanders en kikkers komen dan uit hun winterslaap en gaan via het tunneltje, achter de vierde vijver van de abdij, op weg naar de vijver.
Mannetjes langs het fietspad
De paddentrek duurt doorgaans een dikke maand. "In het begin van het seizoen zie je voornamelijk mannelijke padden zitten langs het fietspad", vertelt bio-ingenieur Raf Aerts. Raf is zowel professor biodiversiteit en gezondheid als vrijwilliger van de Vrienden van de Abdij. Hij helpt de diertjes al jaar en dag naar veiliger oorden.
De mannetjespadden wachten langs de spoorwegberm op de (grotere) vrouwtjes. "Ze proberen zo snel mogelijk op de rug van een vrouwtje te kruipen. Ze doen dit om een grotere kans te hebben om als enige te paren met dat vrouwtje, dat onderweg is naar de vijver."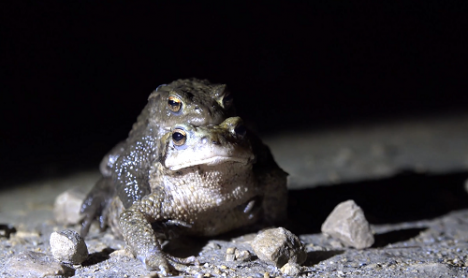 Wie jonge, single mannetjes overzet naar de vijver, bewijst hen geen dienst. "Zo verliezen ze hun strategische uitkijkpost en ze kruipen sowieso terug", vertelt Aerts. "Koppeltjes, waarbij het mannetje op de rug van het vrouwtje zit, worden best wel overgezet."
Salamanders
Op onze abdijsite trekken ook heel wat salamanders van de spoorwegberm naar de vijver. Op enkele jaren tijd is de site geëvolueerd naar een plek met veel kleine watersalamanders.
"De tunnel onder de spoorweg is op zich een goede trekroute, maar houdt ook een bijzonder risico in. Als het tijdens de nacht plots koud, droog of erg winderig wordt, kunnen de dieren vaak geen veilige schuilplaats meer vinden in de betonnen tunnel. Dan drogen ze uit, of riskeren ze te worden overreden door fietsers de volgende ochtend", weet Aerts.
De afvoergoten werden daarom vrijgemaakt. Er werden ook schorsplaten gelegd, zodat de dieren beschutting kunnen zoeken en later verder kunnen trekken.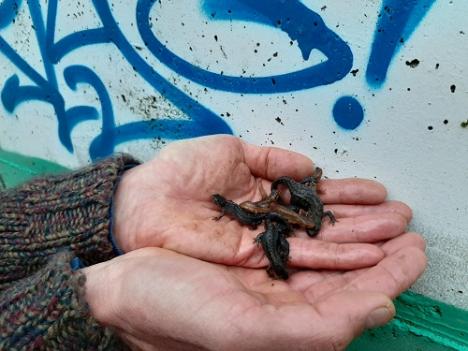 Kijk uit je doppen
Je kan zelf ook een handje toesteken door 's ochtends goed uit te kijken naar salamanders of padden die geen schuilplaats hebben gevonden en in het midden van de tunnel of op het fietspad zitten. "Raap hen dan op en zet ze voorzichtig neer onder de heg, aan de kant van de vijver. Vergeet nadien je handen niet te wassen – niet tegen het coronavirus, maar padden zijn giftig", besluit Aerts met een knipoog.