Een ommetje rond de vijvers van de Abdij van Park is een van de populairste wandelingen in onze regio. Wie met een leuk groepje op stap wil, kan altijd terecht bij Buurtsport. "We organiseren hier wekelijks een wandeling – iedereen is welkom!"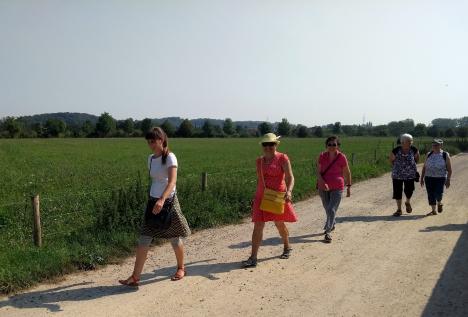 Buurtsport organiseert laagdrempelige en gemoedelijke sport- en spelactiviteiten in het Leuvense. Elke donderdag zijn ze te gast op onze abdijsite. Ze organiseren hier gratis natuurwandelingen voor buurtbewoners, onder de noemer 'Fit in de Natuur'.
"Met Buurtsport willen we sport voor iedereen aanbieden, zonder iemand uit te sluiten. De stap om op je eentje te gaan sporten, is redelijk groot. Daarom brengen we sport naar de leefomgeving van de mensen, in dit geval naar de abdij", lacht Sara. "We organiseren hier wekelijks een wandeling – iedereen is welkom!"
"Iedereen vindt het hier mooi"
De aanwezigen zijn niet meer van de jongsten, maar daarom niet minder enthousiast. "Ik wandel zo veel mogelijk," vertelt Francine (80), "maar ik kende dit pad langs de vijvers nog niet. Vroeger kwam ik wel vaak in het gastenkwartier, want daar had onze kajakclub haar lokaal. Nu is daar die abdijbrouwerij", lacht ze.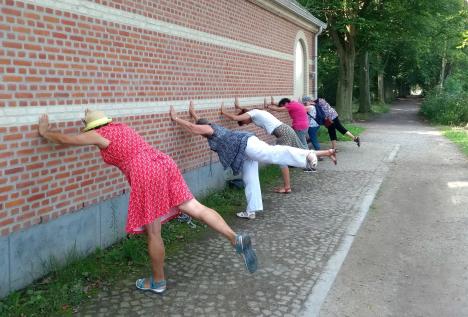 "Ik las in het magazine LVN dat deze wandelingen plaatsvonden en kom sindsdien wekelijks. Weer of geen weer!", vertelt Wennan (75) trots. "Ik heb hier ook al vrienden en familie mee naartoe genomen: iedereen vindt het hier mooi. En op deze manier haal ik ook mijn 10.000 stappen", wijst ze naar haar stappenteller.
"Altijd een fijn gesprek"
De groep houdt geregeld halt voor een oefening. De spieren strekken, door de knieën buigen… Niet supermoeilijk, maar wel actief. "Zowel de wandeling als deze oefeningen zijn prima voor mijn gezondheid", vertelt Rita (67). "Zo blijven we in beweging. Het is ook een leuke groep – ik heb hier altijd een fijn gesprek. Zoals nu", glimlacht ze.
Interesse om eens mee te wandelen? De deelnemers verzamelen elke donderdag om 10.30u in de inkomhal van Sportoase (Philipssite). Van daaruit wandel je naar de abdijsite, met eenvoudige oefeningen tussendoor. Voor vragen en inschrijvingen: 016 27 24 53 of mail buurtsport@leuven.be.