Kamperen met zicht op de abdij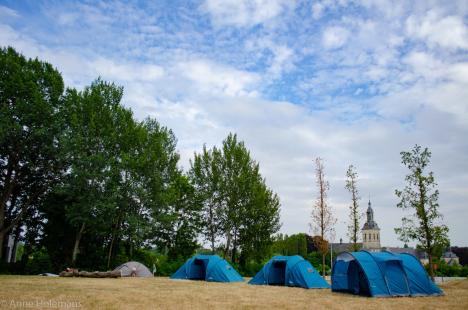 Deze zomer kan je kamperen met zicht op de Abdij van Park. Midden tussen het groen, maar vlak buiten de Leuvense ring slaat KAMPING KONTAKT zijn tenten op. "Het is een alternatieve manier om Leuven te beleven."
KAMPING KONTAKT zorgt ervoor dat je op een laagdrempelige, budgetvriendelijke en klimaatneutrale manier op vakantie kan gaan. "Kampeerders van alle leeftijden kunnen hier komen met hun tent en slaapzak, en wij bieden zelf ook tenten aan. Overdag organiseren we sportieve of creatieve activiteiten, en we baten ook een keuken en zomerbar uit", vertelt projectcoördinator Nele Verduyn.
KAMPING KONTAKT wil iedereen de kans geven om op een duurzame, ecologische en sociale manier op vakantie te gaan. "Ik krijg vaak de indruk vakantie tegenwoordig exclusief moet zijn en zich mooi laat vatten op Instagram," vervolgt Verduyn. "Op die manier worden mensen uitgesloten, en ze heeft bovendien een negatieve impact op het milieu."
"Voorliefde voor kamperen én Leuven"
De initiatiefnemers zijn een groep geëngageerde jongeren, studerend of werkend in de socioculturele en architecturale sector. Samen delen ze een voorliefde voor kamperen én Leuven. "We willen ontmoetingen stimuleren, samenwerken met lokale partners en inspiratie opwekken. Ze tent dus op in Leuven en overnacht in een stedelijke oase van rust", besluit Verduyn.
KAMPING KONTAKT, nog tot 10 augustus op de grasveldjes aan de Philipssite (Tivolistraat 32). Meer info op deze website.