Mindful lopen en wandelen in de abdij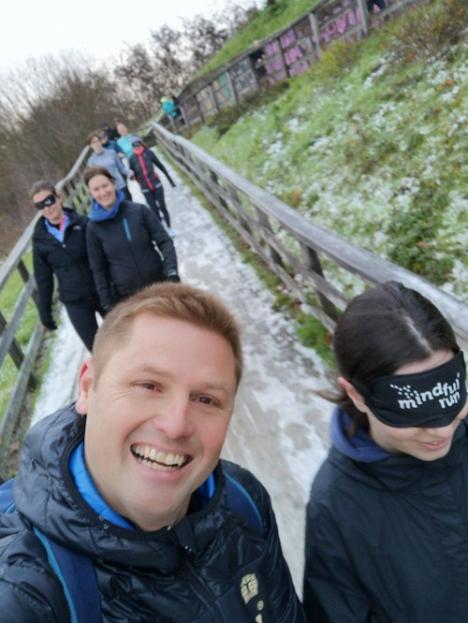 Mindfulness op de abdijsite
De instructeurs van Mindful Run België waren op zondag 16 december te gast in de Abdij van Park. Ze organiseerden er een mindful tocht, waarbij ze alle zintuigen aan het werk zetten. De opbrengst van het event gaat integraal naar vzw Think-Pink.
Zo'n 40 enthousiastelingen zakten zondagochtend af naar de Abdij van Park voor een 'mindful silent run & walk'. De abdij was voor de gelegenheid gehuld in een wit dekentje. "De sneeuw zorgde voor een eerste, unieke ervaring. En gelukkig regende het niet", vertelt organisator Hannes Geyskens.
Stille modus
Om 10u verzamelde iedereen aan de parking van de abdij. Nadat iedereen zijn parkeerschijf had gelegd, trokken de sportievelingen naar het centrale binnenplein (Neerhof). "Na een korte uitleg zijn we gestart met een yoga-oefening, in stilte. Zo kwam iedereen in stille modus. Rond kwart na tien zijn we dan vertrokken voor een tocht waarin we ieders zintuigen prikkelden."
"We hebben 4 activiteiten gedaan", vervolgt Hannes. "Telkens we stopten, gaf ik uitleg in gebarentaal. Zo hebben we lopers per twee gezet, waarvan er eentje geblinddoekt werd. De man of vrouw die niets zag, kon niets anders dan zijn of haar compagnon vertrouwen bij het vervolg van de route. Na enkele voorzichtige passen gingen ze stilaan lopen. Dat was een grote sprong - ze kenden elkaar toen nog maar 10 minuten."
Naast het zicht werd ook het reukorgaan getest, want mindful lopen doe je door langs je neus adem te halen. "Zo kun je nog beter focussen op het hier en nu, in de omgeving waar je loopt. We lieten de deelnemers ook proeven van een dessertje, waarvan ze later de ingrediënten mochten raden. En we deden ook aan voelen: de deelnemers zetten het op een boksen. Dat was soms echt hilarisch omdat het zo stil moest gebeuren", glimlacht Hannes.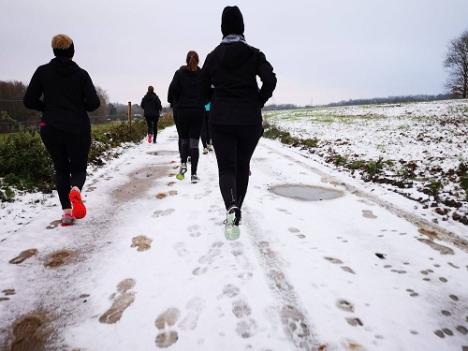 "Echt een verrijking"
"Ik ben al vaker een toertje rond de vijver gaan lopen, maar dit was echt een verrijking", vertelt deelneemster An (36). "Het feit dat je niet mag praten, zorgde ervoor dat je het lopen totaal anders beleeft. Alleen al de sneeuw onder je voeten – daar werd ik simpelweg bewuster van."
An liet zich graag overrompelen. "Het was leuk en origineel, wat mij betreft voor herhaling vatbaar. We leven in een praatcultuur, maar doordat we stil moésten zijn, genoot ik echt meer van het moment. En het bewees ook dat je met gebaren alles kan uitleggen", glimlacht ze.
Muzikant doorbreekt stilte
Er waren drie groepen van 13: twee loopgroepen, die elk zes kilometer liepen, en een wandelgroep die het bij drie kilometer hield. De stilte werd pas doorbroken door een muzikant. "Ook toen moesten de deelnemers nog stil blijven, hoewel sommigen wilden meezingen. Maar de tocht eindigde pas op het Neerhof, waar we besloten met tai-chi. We hadden er ook een soepje voorzien" , besluit instructeur Hannes.
Omdat De Warmste Week er zit aan te komen, besloten instructeurs Hannes, Helga, Katleen, Diederik, Annemie & Barbra de opbrengst van het evenement te schenken aan vzw Think-Pink. Think-Pink vraagt meer aandacht voor borstkanker en financiert wetenschappelijk onderzoek dat de meest voorkomende kanker bij vrouwen bestrijdt. Meer informatie over Think-Pink vind je op deze website.
Meer foto's? Bekijk het album.
Blijf op de hoogte van alle nieuwtjes en evenementen op en rond de abdijsite en like de Abdij van Park op Facebook!