Lopers trotseren de regen op Nature Trail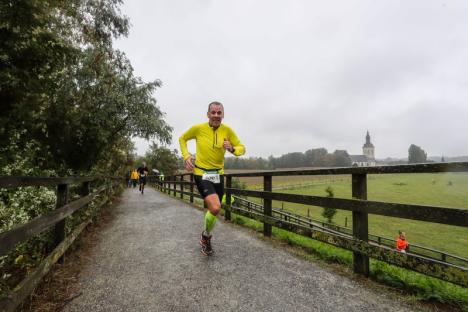 Het parcours van de eerste Lampiris Leuven Nature Trail liep op zondag 23 september ook door de Abdij van Park. Het loop- en wandelevenement lokte heel wat sportievelingen naar Leuven, die een heroïsche dag beleefden.
De Lampiris Leuven Nature Trail is een uniek loop- en wandelevenement met een zo laag mogelijke impact op milieu en omgeving. De deelnemers verzamelden op het Martelarenplein bij het station van Leuven, waar ze hun startnummer konden afhalen. Van daaruit vertrokken ze naar de startplaatsen van het evenement.
De lopers konden zich wagen aan drie verschillende afstanden. Diegenen die zich voor de 11km hadden ingeschreven, vertrokken richting Oud-Heverlee. De start van de 16km en 25km lag in Sint-Joris-Weert. Het traject voerde de deelnemers volledig door het groen: via Heverlee Bos, de Abdij van Park en de groene rand rond Leuven liepen ze terug naar het centrum van de Dijlestad.
"Liep ik in de vijver?"
Ondanks het regenweer werd de trail toch een groot succes. De ruim 1.500 sportievelingen beleefden een heroïsche dag, die ze van start tot finish in de gietende regen aflegden. Het parcours werd dan ook onvermijdelijk zwaarder naarmate de dag vorderde. Het was een uitdaging, maar geen onoverkomelijke. "Al ben ik nog altijd niet zeker of ik nu in de vijver aan het lopen was of dat dat het pad was dat ik moest volgen", lachte deelnemer David na afloop.