"Stilte biedt ruimte tot reflectie"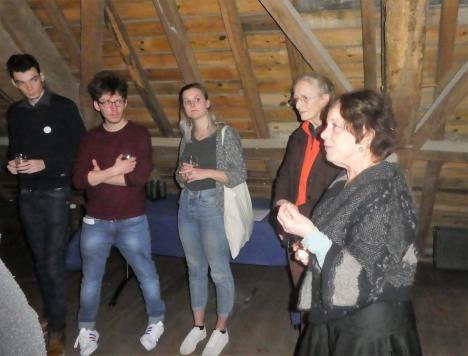 Op zondag 28 januari vond de eerste van twee stiltedialogen plaats bij PARCUM. "Ook vandaag voelen veel mensen de nood aan een moment van stilte en afzondering", klinkt het bij de organisatie.
Als dialoogmuseum wil PARCUM een open ontmoetingsplaats zijn met ruimte voor reflectie en dialoog. Daarin kaderen ook de stiltedialogen, die het museum organiseert in samenwerking met GrenzenbewegenLeuven. "Het evenement biedt bezoekers de gelegenheid om zelf de stilte te ervaren onder de vorm van een begeleide stilte-oefening", legt Julie Aerts van PARCUM uit.
De deelnemers konden voorafgaand aan de stiltedialoog een bezoek brengen aan de tentoonstelling 'Van de wereld. Beelden van beslotenheid en bevrijding'. Thema's als stilte en contemplatie komen in de expo aan bod in het kader van het religieuze leven. Het getoonde erfgoed is daarbij een ankerpunt.
Alle religies en levensbeschouwingen
Het opzoeken van afzondering en stilte gebeurt binnen alle religies en levensbeschouwingen. De deelnemers aan de stiltedialoog hadden dan ook diverse religieuze en levensbeschouwelijke achtergronden: Baha'ï, hindoeïsme, christendom, vrijzinnig... Ook wie zich niet tot één of andere religie of levensbeschouwing rekent, vond gemakkelijk aansluiting bij het initiatief.
"Ook vandaag voelen veel mensen de nood aan een moment van stilte en afzondering. 'Stilte' duidt niet enkel op de afwezigheid van geluid, maar biedt ook ruimte tot reflectie en innerlijke dialoog", aldus Magda Van Opstal van de inter-levensbeschouwelijke dialooggroep Grenzenbewegen.
Verbondenheid
Elke deelnemer kon naargelang de levensbeschouwing een eigen beleving of invulling geven aan het stiltemoment. Na afloop was er een korte nabespreking, waarbij de deelnemers ervaringen en indrukken uitwisselden. Het samen beleven van een stiltemoment schept immers verbondenheid en een draagvlak voor het ter sprake brengen van zingevingsvragen.
De volgende sessie van de stilte-dialoog vindt plaats op zondag 18 februari. Meer info en inschrijvingen via deze link.