A guide to Leuven's nicest coffee bars
We love our daily cup of coffee! So let's talk about that delicious black gold. Usually we'll drink this either at home or at work, but whenever we are out and about, we looooove visiting a coffee bar. It's a moment to stop and relax, to sit back and enjoy an espresso, a long black, a café latte or whatever different option of your choosing.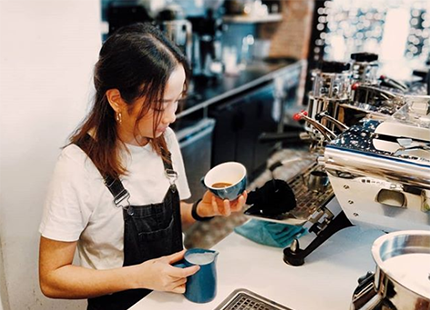 Madmum | Tiensestraat 38, Leuven
Pieter Claes, founder of Madmum, got the award of Belgium's Best Coffee Taster in 2013 and Belgium's Best Coffee Roaster back in 2014. So we are just over the moon he decided to open up his own coffee bar in Leuven! He strongly believes in setting up as short of a supply chain as possible so he has direct contact with his coffee farmer in Columbia instead of going through a major supplier. The coffee beans are then roasted at Madmum itself and you can even have a look at this process if you're interested! The world doesn't stop at just coffee at Madmum, they also serve tea, cocktails, breakfast, lunch, sweets… Yeah, this is a cool spot!
We Love Coffee | Diestsestraat 176, Leuven
We Love Coffee. The name says it all doesn't it? The bar is hosted by Marco and Karin and you'll find something of both their characters in this place. Karin is originally from the Czech Republic, which is also where We Love Coffee roasts its Brazilian beans. You'll also find a delicious Czech cake on the menu, the Marlenka. It's a light cake with honey and nuts and is reason enough to pay a visit to this cool bar! Marco used to be a dj which led to music being a big part of this bar as well. The name of We Love Coffee could also very well have been Coffee and Beats, as they play music from international dj's.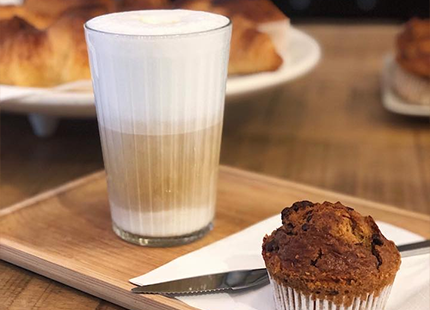 Sara's | Bogaardenstraat 24, Leuven
Time to get inside and relax. Hidden away in the shadow of the university tower, in a quiet street between the busy shopping streets, you'll find Sara's. The term "hidden gem" really applies to this place as it's absolutely wonderful! The atmosphere is cozy, the coffee is good and the interior is beautiful. You won't go hungry here either as Sara offers a delicious mix of salads, muffins, sandwiches, et cetera. It's not hard to see why Sara's is the favorite coffee bar of many of Leuven's inhabitants!
CHCO Café Leuven | Brusselsestraat 10, Leuven
The youngest member on this list! The Chocolate Company Café Leuven, or CHCO café in short, opened its doors right after the New Years celebrations. As its name suggests, this bar's specialty is chocolate… and lots of it! There are over fifty different hotchocspoon flavors! What's a hotchocspoon you ask? It's a chunk of chocolate on a spoon. Stir it in your cup and you get some delicious chocolatemilk. The CHCO Café holds its coffee to the same high standard as it does its chocolate. The 'chocolista's' will serve you a delicious cup of high quality coffee from Guatemala. Right in the heart of our city, with a view on our gorgeous city hall, you can't go wrong with this place that has amazing chocolates and great coffee!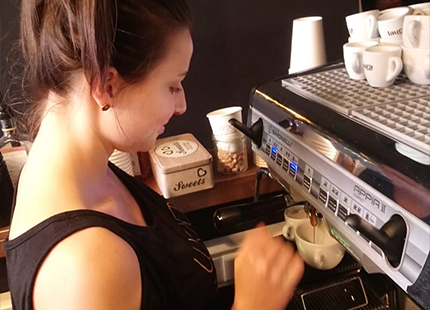 Anna | Leopold Vanderkelenstraat 27, Leuven
Want to relax and chat about all the stunning art you've come across while visiting the beautiful museum M? Anna is located right across the street! Get yourself a slow brewed coffee, hang back in one of the comfortable sofas and relax. Or have yourself and iced coffee or cold brew on a hot day and sit in the sunlight on Anna's terrace in one of Leuven's pretty streets. With a broad selection of high quality products, there's really something for everyone here.
Swartehond | Joris Helleputteplein 1, Leuven
Swartehond is all about getting out of the busy city life to enjoy an excellent cup of coffee and some peace of mind. It's located at the perfect place to do this: just a minute away from the lively Oude Markt, on a very peaceful and quiet square. With its fairchain coffee, Swartehond wants to give you not only a delicious coffee, but also an honest one. As they say, their mission is simple: serve delicious goodies to provide you with that extra smile on your face.
Have you ever been to any of these bars? Or are you planning a visit after this article? Let us know in the comments and make sure to use hashtag #aboutsomethingaround when you take a picture of your pretty cup of coffee. 
Lynn & Thomas