There's no better place to spend those cold winter days than in Leuven's convivial city centre and Christmas market. 'Winter Season' guarantees an annual itinerary packed full of wonder and fun. There's the attractive winter garden, fun Christmas market, concerts in the city, and the ephemeral Beguinage by candlelight.
Cosy Christmas market in the heart of Leuven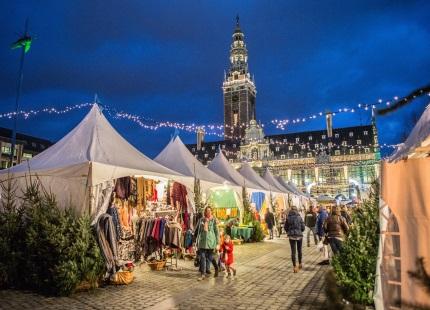 The activities of Winter Season 2020 have been cancelled
Stroll among the many Christmas market stalls at one of Belgium's oldest Christmas markets. Over 170 stands open for business for a month long. A guest country is chosen each year to be represented at the Christmas market by its traditional products. Plus, there are musical performances, artisanal Christmas presents, culinary surprises, and loads of ambience. The cosy atmosphere and the location right at the city centre are perfect for enjoying a special city trip during the holiday period.
Warm winter sounds
While the Christmas bustle goes on outside, Saint Peter's Church fills with soft, classical music. Attending a concert here in this beautiful church is a very magical experience. The short concerts are a major treat for everyone. Listen to the moving melodies of classical ensembles in Saint Peter's Church. 
Walking in winter wonderland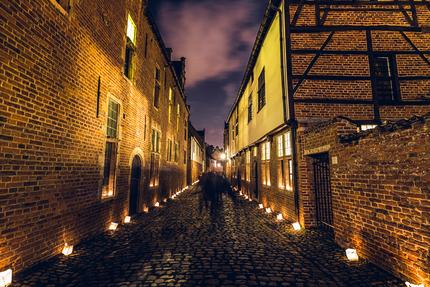 Visit the city's most beautiful spots, all dressed up in their winter finery, while a guide tells you heart-warming tales. You'll also be able to enjoy a cosy closing treat. Stroll through Leuven's beautiful streets and soak up all the holiday ambience. 
An especially wonderful experience is the 'Great Beguinage by candlelight'. One night a year, this fantastic setting is bathed in the soft glow of thousands of candles. Catch the Christmas spirit shimmering in the light of all these candles lining the alleys and courtyards of this medieval village within the city during this special evening.
Great Beguinage by candlelight: cancelled | new edition in 2021
Fairy tale winter garden
A giant winter garden appears every winter at the Grote Markt. The cobblestones make way for a varied decor of wintery green, the design of which is based upon an English landscaped garden. You can sip a delicious hot chocolate or some mulled wine in this green oasis. Plus, the winter garden also lies in the shadow of the beautifully lit Town Hall. 
Grote Markt
Open every day during Winter Season