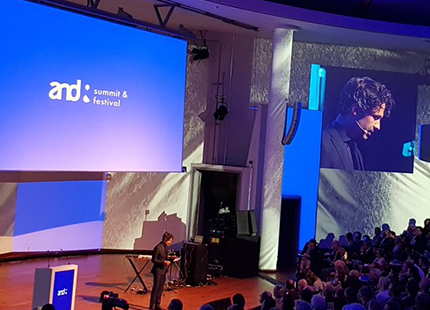 Join a three day forward-thinking conference, shaped through 21 questions for the 21st century, with acclaimed top speakers from around the globe. Become inspired to build a better future. 
and&, an innovation festival, looks for answers and ideas through a unique hybrid (both on and offline) experience in Leuven. It provides a platform for interdisciplinary innovation to transform our society towards a better world.
What can you expect?
A forward-thinking and inspiring Conference shaped through 21 questions & gathering acclaimed top speakers from around the globe. An Entrepreneurial Summit with a focus on purpose driven entrepreneurship that stimulates the wellbeing of our planet. A compelling Music & Arts programme offering culture & knowledge in times we need it the most. Co-creative, artistic projects such as Play to immerse the next generation in creativity & new technologies. And last but not least: accessible & entertaining iCapital showcases on why Leuven is Europe's innovation capital.
Some of the speakers in 2021:
Jimmy Wales, co-founder of Wikipedia
Erika Cheung, innovation ecosystem builder 
Chris Meddina, inventor of the #hashtag
Payal Arora, digital antropologist
Practical info
21.04 - 25.04.2021
Tickets: 
Participation in 1 talk: FREE
Participation to all talks: 29 euro
Participation to all talks + entrepreneurial summit: 39 euro