Behind the scenes of the brasserie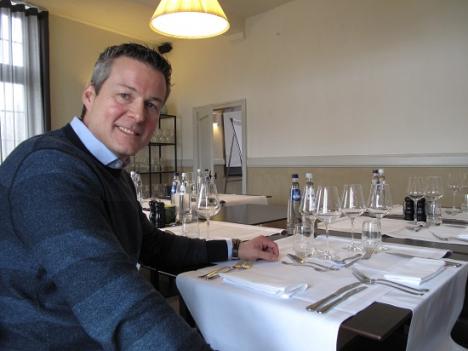 "Operating a brasserie next to an abbey is unique"
Frank Mertens at the 'The Abbey Mill' brasserie strings his superlatives together when it comes to the Park Abbey. "It's already a beautiful place, and after the restoration, it will be absolutely fantastic here. No wonder our terrace is always full," he smiles.
The brasserie opened five years ago in the centuries-old mill at the Sint-Janspoort. There is something pleasant going on every hour of the day, seven days a week here.
Operations manager Frank Mertens was convinced of the location's added value from the start. "I knew there was an abbey in Heverlee, but not that it was so beautiful and so grand. The driveway alone fascinated me. Behind it was the beautiful Premonstratensian abbey... I was sold after the first tour," he recalls.
"Most beautiful terrace in Leuven"
The brasserie fits nicely into the whole of the Abbey site. "We kept both the authenticity and the decoration of the mill, so the ambience followed naturally. People come here to enjoy the peace and quiet," says Frank. "The fact that you can run a brasserie next to an abbey is also unique. As far as I'm concerned, our terrace is the most beautiful in Leuven and the surrounding area."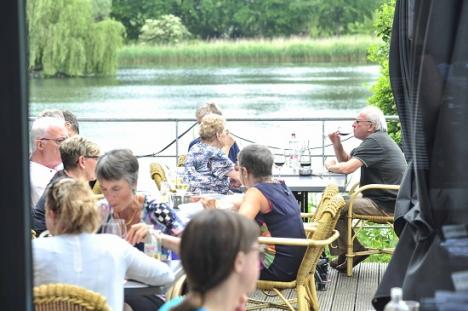 In addition to the brasserie area, there are also five conference rooms. "We make the link with Park Abbey there too: the rooms are called Godfried I, Godfried II, Tydelinus, Augustinus, and Ambrosius. You can always go there to organise a meeting or party, with lunch or dinner. We take the type of activity into account to preserve the spirit of the site," he says.
"It just gets more and more beautiful"
The brasserie was the first building to reopen after the restoration. "It just gets more and more beautiful here. No wonder our terrace is always full," Mertens smiles. "A lot of people also come to look at the restoration work with interest. We were able to follow the restoration of the historic walls stone by stone. We are looking forward to more," he says.
What does he order himself when he comes into the brasserie? "I always order the dish of the day," laughs Mertens. "That's the calling card of a hospitality business. By the way, you do know that Tuesday's are steak days," Mertens winks.
For more information about The Abbey Mill brasserie, go to this page