9x hotspots for a sustainable visit to Leuven
Leuven is one of Europe's greenest, most sustainable cities! This was confirmed when the city received the title of European Green Leaf 2018. It's European recognition for all of Leuven's hard work in sustainability and liveability. This means it's high time for a sustainable visit to Leuven! These nine hotspots are must-sees.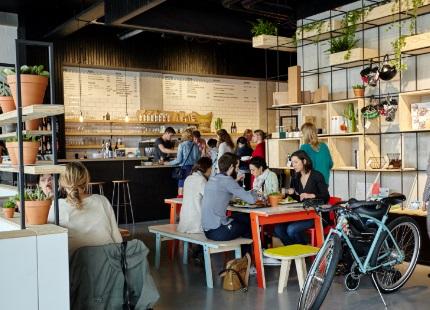 1. Hal 5 | Locomotievenstraat, 3010 Leuven
The empty, historic railway halls were transformed into a vibrant, urban, sustainable meeting place. Hal 5 brings various partners together under one roof. Not only is there a food court there, with a bar and various food stalls, there are also organisations and initiatives focusing on diet, exercise, and sustainable enterprise that have opened up shop in Hal 5.

2. Noordoever | Vaartkom 17A, 3000 Leuven
This bistro serves up pure, organic, healthy vegetarian/vegan food. Noordoever sources as many products as possible from local farmers, partners, and suppliers. The dishes are served up buffet-style and offered by the gram to prevent as much food wastage as possible. In short: Noordoever is all about sustainability! Get acquainted with this pure cuisine and come enjoy the dishes (prepared fresh daily!)

3. Content | Tiensestraat 259, 3000 Leuven
At Content, it's what's inside that counts. You can come to this packaging-free shop for all your daily needs: grains and dry goods, fruits and vegetables, bread, dairy, drinks, personal care products, household products, etc. Just bring along your pots, jars, bags, etc. and fill them up with all the groceries you need. Content mainly offers local foodstuffs. You not only create less waste, but you also combat food wastage and support the local economy.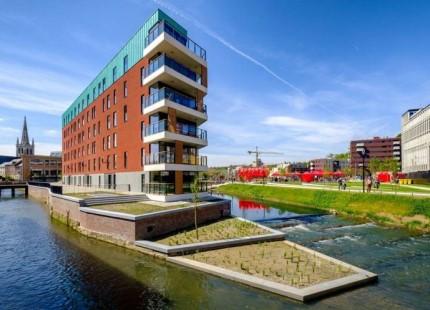 4. Sluispark | Sluisstraat/Burchtstraat, 3000 Leuven
The Sluispark is recently reopened in 2017, back in one of the trendiest, most booming neighbourhoods in Leuven: the Vaartkom. The neighbourhood's residents were closely involved in the design process so that the part ties into their living environment seamlessly. Sluispark is all about water: the Dijle River has been opened up here, with stairs leading down to the water, and there's even a water playground. It's perfect for relaxing in the summer.

5. Muntstraat | Muntstraat, 3000 Leuven
The Muntstraat is the heart of Leuven's hospitality sector. This culinary main street also makes its own contributions to sustainability. Around 15 hospitality business have decided to measure and reduce their energy consumption. Together, the project partners have achieved an average energy savings of around 12%. Several business are now consuming up to 20% less energy, just because they've reduced their standby energy loss! So, be sure to stroll around one of Leuven's most pleasant, and likely soon to be most sustainable, streets.

6. Renting bicycles:
• Velo/Fietspunt | Prof. Van Overstratenplein 1/001, 3000 Leuven
• Leuven Leisure | Tiensestraat 5, 3000 Leuven
Exploring the city by bicycle? You can choose from standard city bicycles, mountain bikes, tandems, and carrier tricycle at the fietspunt at the station. Leuven Leisure, in the city centre, also has a wide selection of bicycles. Helmets and child carriers are available for free.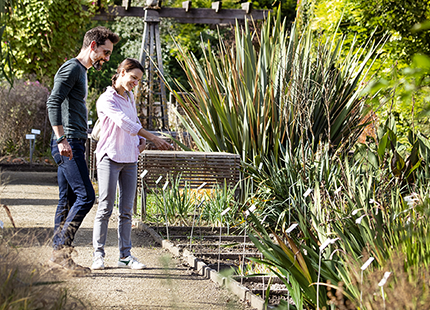 7. Botanical Garden | Kapucijnenvoer 30, 3000 Leuven
Plant and herb lovers can come forage to their heart's content in Belgium's oldest botanical garden. The University of Leuven planted the garden in 1738 for its medical students. The 450-m² greenhouse complex is not only home to numerous herbaceous plants, herbs, aquatic and container plants, it also contains a variety of tropical and subtropical species. Exhibitions are regularly held in the Orangery, in the gatehouse, and outside.

8. Martin's Klooster | Onze-Lieve-Vrouwestraat 18, 3000 Leuven
A four-star hotel in a fabulous spot in Leuven that also focuses on sustainability. What more could you want? Martin's Klooster is an exceptional piece of Leuven's patrimony with unique rooms and beautifully landscaped gardens. The hotel also has the 'Green Key', the largest and most renown international mark of quality for environmentally friendly tourism companies. They use water and energy sparingly, deal with waste carefully, keep an eye on their employees' and guests' social circumstances, all without losing any comfort.

9. Streets full of Leuven | Pater Damiaanplein, 3000 Leuven
Streets Full of Leuven is an initiative that gets locals to help in making Leuven's city centre more pedestrianised. Step by step, roads are making way for pedestrians and bicyclists for relaxation and enjoyment. For example, the initiative has already transformed several squares in the city into peaceful oases. Be sure to stop by the Pater Damiaanplein.