4x open-air sport locations
When the weather is fine there are lots of lovely places for some free sport. Here are 4 that we have chosen for you already. On with those sports clothes and off you go!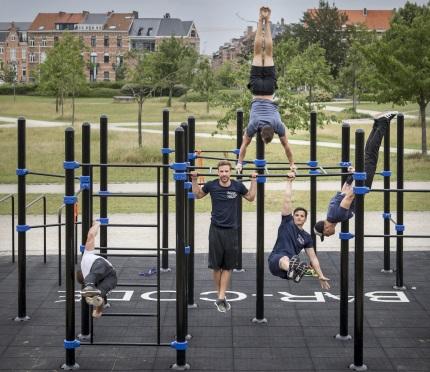 1. Hearty work-out at the bar
Currently the greatest hype in Leuven is probably calisthenics. This requires a 'bar park', and one of those has recently been installed behind Sportoase on the Philips site. 'With calisthenics your own body is used to create resistance', explains Sebastiaan François from the BAR-CODE team. 'The focus is on acquiring skills. And therefore not on the aesthetic aspect, as is the case in fitness centres, where you really focus on your body.' The 'park' is accessible at all times and an info panel on display provides an explanation of five exercises, one per muscle group.  
2. Completely renovated: the fit-o-meter
Those that like to do sport in green surroundings can try out the new fit-o-meter in Heverlee woods. There are eight exercises to be completed around the course. You can choose from three levels: beginners (green), good basic fitness (blue) or advanced sporting level (red). By completing the entire course you can enjoy a fun and varied training that combines both cardio and strength. The fit-o-meter can be used alone or in a group.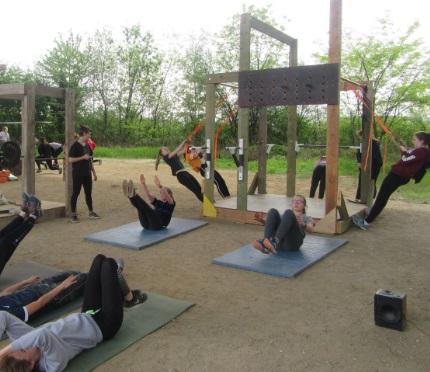 3. Outdoor fitness exercises
Do you like doing fitness exercises? But do you also like doing sport in the open air? Then Open Gym is a great alternative! Open Gym is a public sports park, located below the E314 viaduct in Wilsele, where you can come and do power training and climb for free 24/7. The constructions have been made with recycled and reclaimed materials where possible, and designed and built by sports people from Leuven. Until 2nd September Open Gym is also available in De Bruul Park and Heuvelhof Park, where you will find a mobile construction until then. Go and check it out!
Go and check it out
 
4. Explore the city as you exercise
Spread across the city centre are 12 boards featuring a total of 20 varied exercises, covering agility, coordination, strength and balance. As well as doing some sport this also gives you the opportunity to discover the city from another angle. The locations are shown on this map: